Paradisus Playa del Carmen Wedding Photography
Riviera Maya
Playa del Carmen
Tulum
Cozumel
Isla Mujeres
Noreen & Karim
An Incredible Indian Wedding & Celebration at Paradisus La Perla & La Esmeralda
Noreen & Karim opted to have a non-conventional Indian wedding, blending multiple cultures to truly make it their own unique experience. Their celebrations kicked off with a pithi ceremony featuring traditional games, Indian buffet, performances, and dancing. Dress was expected to be cultural or casual, and the cornucopia of colours that evening was absolutely breathtaking. I'm not even sure our photos do them justice. It was an exceptionally vibrant evening, full of laughter, excitement and eagerness for the festivities that awaited the following day. It was also a fabulous way to meet & greet with the guests before the wedding itself.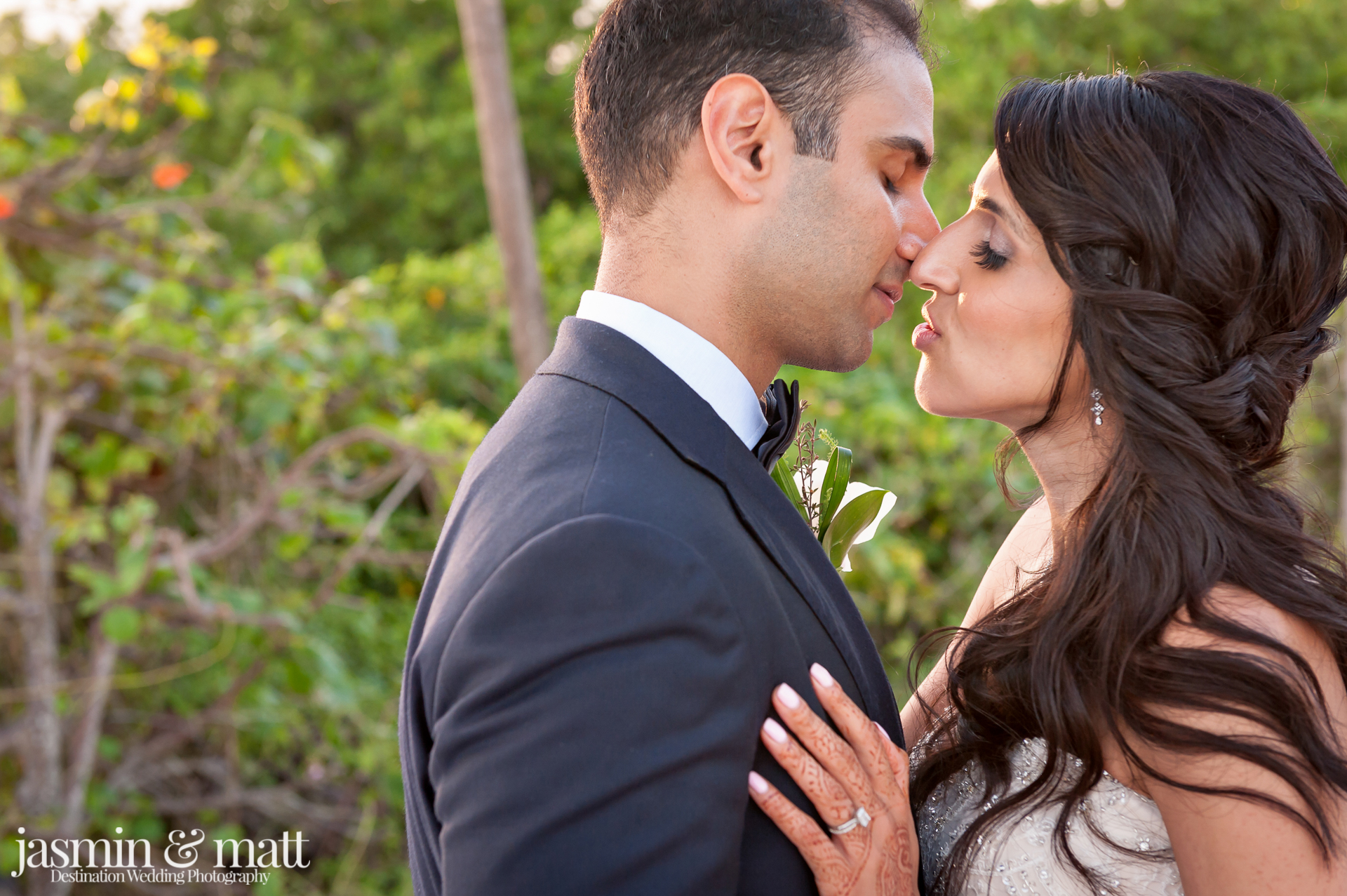 The wedding day itself was absolutely amazing. We had a fantastic time, from start to finish, and couldn't believe how much fun everyone wanted to have through and through. We had expected, from our time with the guests the previous night, that there were going to be plenty of smiles, the occasional tear, and the sound of laughter heard for miles, and we certainly weren't disappointed. Noreen looked amazing in her white wedding dress, surrounded by her nearest and dearest, dancing around and singing while getting ready with her girls in the spacious bridal suite at Paradisus La Esmeralda. The ceremony was breathtaking, located on the Gabi Bridge, perfectly nestled with jungle on either side, and the beach in the background. Could you ask for a more dreamy location to say I do? We think not!
After some much needed champagne and congratulatory hugs, we whisked Noreen & Karim away for photos on the beach to take advantage of the Golden Hour of sunset, alongside the wonderful videography husband & wife team at AmorAmor. With the setting sun, we returned to the reception, ready for a live saxophonist during dinner, an entertaining round of The Shoe Game, some speeches, a solo sung by their junior bridesmaid, first dances and the ultimate dance party (complete with props!) I wasn't lying earlier when I said these folks gave their 110% from start to finish. We are beyond honoured to have had the opportunity to photograph Noreen & Karim's wedding celebrations and wish them nothing but the best with their future together.
If you're searching for professional photographers ready to capture the smiles, the tears, and everything in between, look no further than Jasmin & Matt Photography. We are proud Canadians living in the heart of the Riviera Maya, ready to create some lasting memories from your big day, so contact us here today!
Thinking Out Loud - Ed Sheeran
Recent Weddings, Couples & Families