Puerto Aventuras Wedding Photography
Riviera Maya
Playa del Carmen
Tulum
Cozumel
Isla Mujeres
Jayme & Daren
A Casual & Cool, Non-Traditional Catamaran "Un-Wedding" in Puerto Aventuras
When Jayme & Daren contacted us about photograping their "un-wedding", we were absolutely thrilled at the prospect of documenting a non-traditional wedding on a catamaran. With a focus on the good times shared by friends & family enjoying endless drinks, breathing in salty Caribbean air, and celebrating these free spirits tying the knot, how could we possibly say no?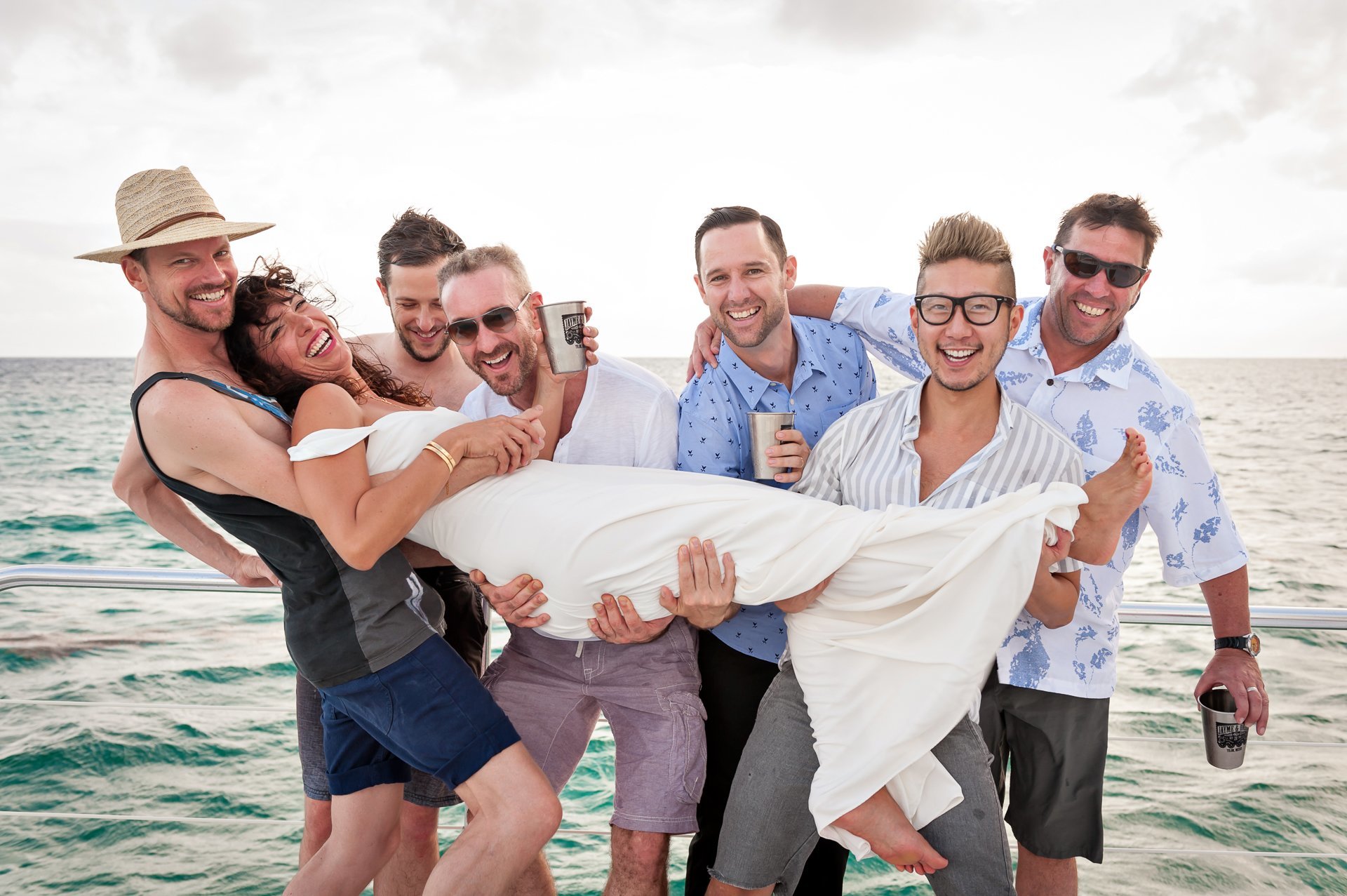 Our adventure savvy couple, Jayme & Daren, wanted to enjoy a few days in Playa del Carmen before continuing on to private villas rented in Tulum alongside family and friends. As budget conscientious travellers, they turned to airbnb.com and secured themselves a cute bohemian spot right in the heart of town. We all agreed to grab coffee at Chez Celine (a local favourite) as an opportunity to meet each other before their casual wedding. We knew the focus was on the fun to be had, plain and simple. There would be no wedding party. No first dance. No formal speeches. No flowers. A friend as their officiant and wedding attire that could easily be "trashed" post-ceremony. How did such a fun and carelessly freeing wedding fall on our shoulders? Via an organic Google search, that's how! And we couldn't be more ecstatic. Their friends had travelled before, but this was meant to be a new experience for several family members. Jayme & Daren were thrilled to have a non-traditional wedding while sailing the sea on a catamaran manned by Local Quickies, surrounded by those closest and dearest to their hearts. And we were honoured to play a vital role in capturing those special moments, documenting the laughter, the tears and everything in between.
Aren't Jayme & Daren's custom-made, environmentally-friendly, aluminum wedding cups cool? If you're interested in getting some for yourself, check out our friends at Cups Co for more information. Let them know Jasmin & Matt Photography sent you their way!
Recent Weddings, Couples & Families