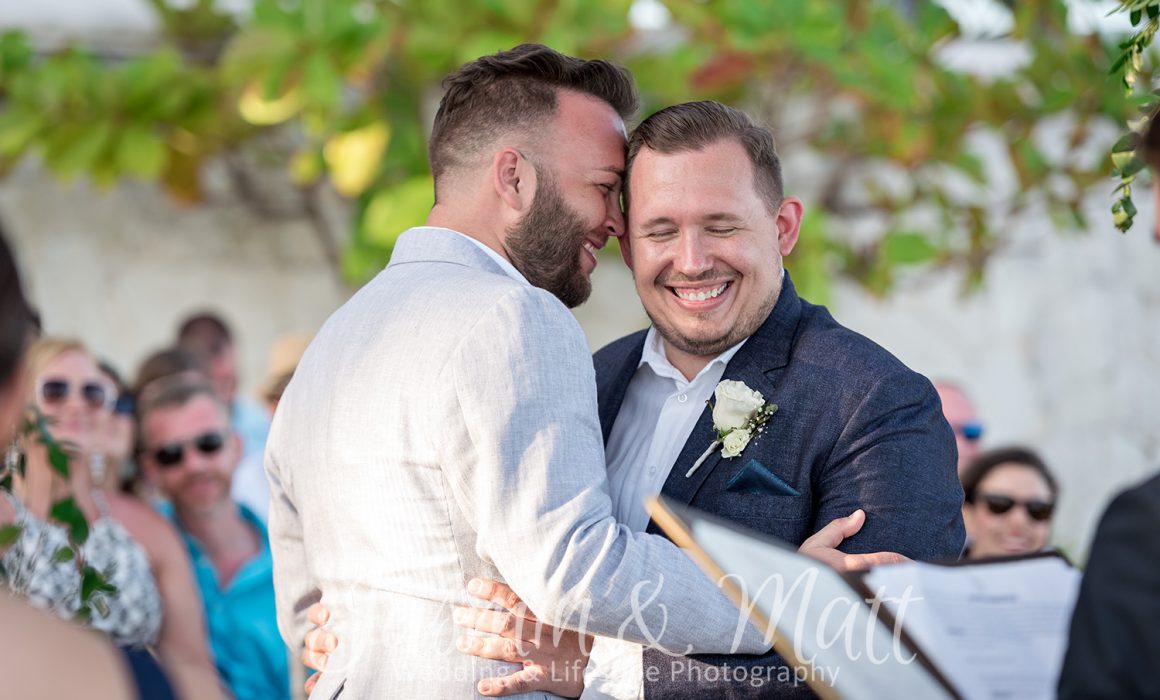 Way before we got engaged, Justin my husband always knew that he would have to leave the photographer for our wedding up to me.
From seeing what the resort that we were getting married at had to offer for photographers, let's just say that I wasn't impressed and that the prices were a joke. The resorts will push you to what they want you to do, but sometimes you need to stand your ground and go with your gut.
Just a few weeks out from our wedding, we were in a quick search for a photographer. After many Google searches, I came across Jasmin's and Matt's website, I instantly knew that fate led me to them. I read their "about us" section and their message about marriage really hit close to home for both Justin and myself. In reading their reviews from other couples, there was no doubt that I had to message them instantly and book.
Within a few short hours, we had a response back from Jasmin! After exchanging emails back and forth for a few weeks and getting details ironed out. We had our photographers for our and wedding and still on edge with a few other things. Jasmin and Matt were nothing short of amazing with dealing with a few hiccups from the Resort and made sure that we were doing okay with everything.
Right before we left, we got the chance to video chat with them and in that moment I got super excited about having them be apart of our special day and the events leading up to them. They got the chance to meet our fur children and we got to meet their cats!
Upon arriving in Mexico and getting settled in, we had a chance to do a "meet and greet" in Playa del Carmen at a local hot spot. We really got to know Jasmin and Matt on a personal level and made everything so enjoyable and stress free.
We had the pleasure to have Jasmin and Matt stay as our guest at the resort we were getting married at, they also came on our main excursion with guests. It was amazing seeing them interact with our guests, but also really getting the moments we wanted captured. They also captured our big welcome party for our guests, these two know how to party and will make sure to show you a good time.
When it came to our big day, Jasmin and Matt made sure that everything seem easy, even with a few things that happened along with the resort. They were in constant communication with each other and had everything planned perfectly. I'll never forget a photo from our guest of Matt sprawled out on the aisle, truly a man serious about his work. With our sunset time line quickly fading, all four of us were in a mad dash down the beach to make sure we got the perfect sunset shot. I only run for the following: food, scary animals chasing me, and the perfect photograph.
I could write a novel of why you should enlist Jasmin and Matt to be your wedding photographers. They are one of kind people that are just filled with a lot of love and patience in their hearts. Their work speaks for itself a million times over and it shows. But most of all, they listen to what your needs are and what you want on your day. My husband and I told them that if they ever visit Washington DC, or any place where we live, they are always welcome in our home. Not only will you have a great photographers, but more than likely they will get sucked up into you pack like the rest of the people in your life.
We can never thank you both, for being amazing during our final stretch of wedding planning. You have officially been scooped up in to our ever expanding pack of misfits.
https://www.jasminandmatt.com/portfolio/wedding-photography/azul-beach-riviera-cancun/adam-justin/