Montreal Vieux-Port Honeymoon Photography
Connie & Paquito
Summer Wedding Session in Montreal's Vieux-Port
Only days before our scheduled couple's session with Connie and Paquito, we received an email mentioning that a horse-drawn carriage had been scheduled for an hour, to be able to tour around the narrow cobblestone streets of Old Montreal. Having never had the opportunity to photograph a couple whilst riding in a carriage was a challenge we were excited to accept. The beginning of the afternoon brought with it some gorgeous albeit slightly humid weather, a charismatic coachman for our carriage ride, and a sizable horse to lead it all. Space was limited, but somehow, all five of us managed to squeeze on board, with gear in hand too. He was exceptionally knowledgeable of the history of Montreal, and shared countless stories while touring us around, and patiently stopping a multitude of times so we could photograph the gorgeous couple enjoying some Old Port staples, such as the Basilica de Notre Dame and an alley known to locals as "La Ruelle Des Amoureux" which translates to Lovers Alleyway.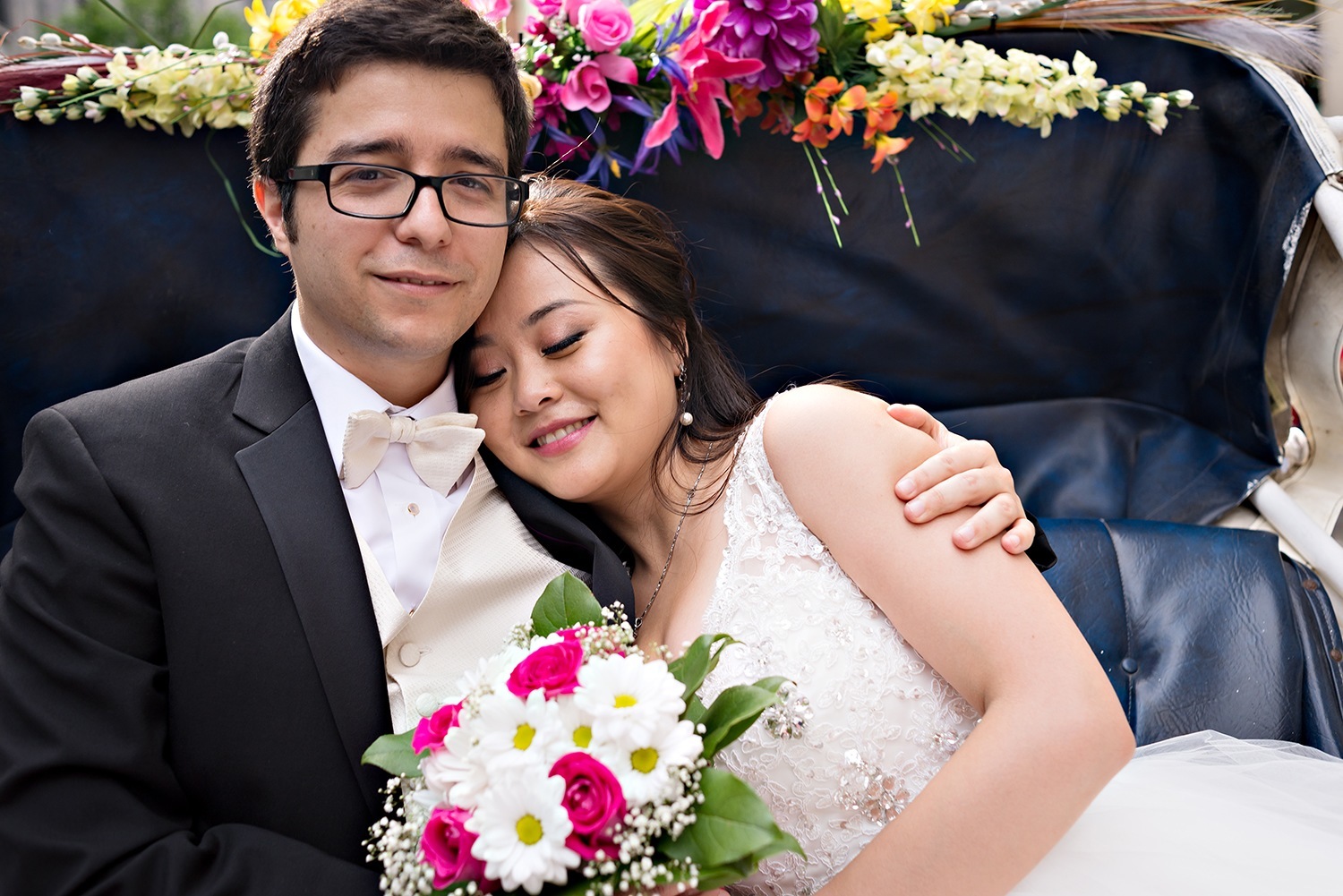 Since this was simply a couple's shoot for Connie and Paquito, as their wedding is taking place a month from now in China, we decided to try to still keep things as cool as possible, trying not to draw too large a crowd of spectators. Our coachman was excited to receive the amount of attention from passer-bys who were congratulating the newlyweds the entire time, and when not retelling Montreal's history, was just as excited to share stories of his newly born granddaughter. The hour passed quickly, and before we knew it, it was time to dismount, and saying our farewells. As Connie went to pet King, the horse, a final goodbye, he seemed far more intrigued by her bouquet than any of us would have anticipated. Turns out that oats may be a staple treat for good behaviour, roses and other assorted flowers were held in an even higher regard.
With the end of the carriage ride, we decided to stretch our legs a bit, and walk along the Old Port Montreal, by the Saint Lawrence river, over a foot bridge and over to grassier lands and less distractions. It was a nice change from the ever-present onlookers during the carriage ride, and one that seemed welcomed by everyone involved. Connie was content to be able to set aside her bouquet, and bring an important keepsake, her plush teddy bear, into the forefront.  We took some time to simply relax, take it easy, and Connie and Paquito both seemed to welcome the opportunity to sit on soft grass and just breathe the fresh air, allowing time to sort of stand still, if only for a mere few minutes.
It wasn't long after that Connie rose from the grass, and decided that she was ready for a change, wanting to take time to exchange the luscious white wedding dress for a more traditional Chinese red dress, Paquito exchanging his garments as well, and having a slight touch up by the friends at hand for both hair and make-up. Connie had expressed previously, that she wanted to take some time to walk along the boardwalk of the pier, and hopefully take some time closer to the Quai de l'Horloge. So, needless to say, we made our way over, and despite the urban beach being closed to the public, we were able to photograph the couple strolling between the trees, towards the Clock tower, and enjoying their time in their change of clothes and scenery.
Recent Weddings, Couples & Families