Playacar Beach Proposal Photography
Riviera Maya
Playa del Carmen
Tulum
Cozumel
Isla Mujeres
Stephanie & Daniel
A Surprise Proposal in the Mayan Riviera
When Daniel first reached out to inquire about having his surprise proposal photographed, we were ecstatic! We had never had an opportunity to photograph an unexpected "popping the question" kind of moment since moving to Playa del Carmen. And he wanted to be able to not only surprise long time girlfriend, Stephanie, by proposing during their vacation in Paradise, but be able to have photographs to reflect on that excitement for years to come. Daniel was happy to have found some fellow Canadians to have share in the fun. Obviously there had to be some extra planning behind the event, and since it was easier to have photographers there inconspicuously right from the start, we agreed on doing an hour of photos just as memories from their vacation, off their resort, Paradisus La Perla. This hour was a perfect chance to carry on casual conversation, and make both Daniel & Stephanie feel more comfortable and confident in front of the cameras.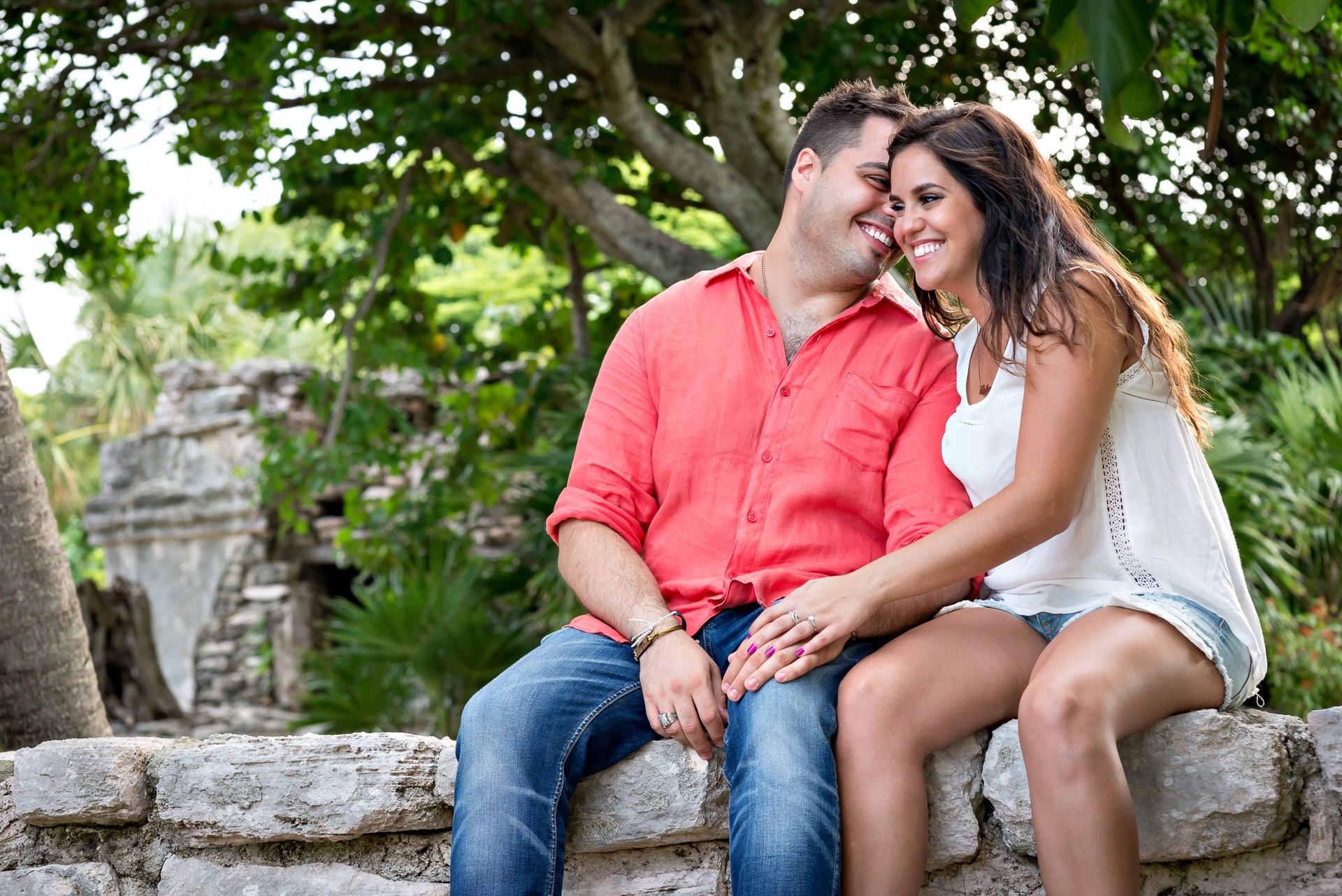 As mentioned, a cue was discussed whereby we had Matt innocently show off some photos to Steph while Daniel had a chance to prepare the ring, and more importantly, take a second to breathe deep in an attempt to calm his nerves. It was a now or never moment, so naturally his heart skipped a few beats when realization hit that this was it! Before you knew it, he was getting down on one knee while Steph enjoyed sneak peeks at some of the photos. It was exhilarating being there to photograph that moment she turns around, and is no longer seeing Daniel eye-to-eye, but registering an engagement ring and the love of her life, down on his knee, asking "Will you marry me?"
We had planned for a two hour shoot, so naturally we still had time afterwards to make our way to the beach. We had explored the Mayan Ruins, and the various banyan trees, and it was time for a change of scenery. The combination of setting sun, stormy clouds, and unfortunate unsightly sargassum seaweed had us wanting to make our way back to Parque Fundadores to wrap up our time together. Considering their vacation was in beautiful Playa del Carmen, it only made sense to ensure a photo opportunity was created to include the Portal Maya 2012 bronze sculpture in the town's center. We extend a heartfelt thank you to Daniel for trusting us with this incredible experience, and are pleased to report that she obviously said yes! Wishing these two nothing but love and happiness in their future together.
Recent Weddings, Couples & Families