Azul Beach Riviera Cancun Wedding Photography
Riviera Maya
Playa del Carmen
Tulum
Cozumel
Isla Mujeres
Krista & Dennis
Simply Elegant Wedding at Azul Beach Riviera Cancun
The day was beautiful, with mild humidity levels and clear skies, at a resort that was cute and quaint, perfect for a smaller, more low-key wedding. More often than not, resorts in the Mayan Riviera are sprawled out, requiring golf cart transportation from one location to another. But Azul Beach Riviera Cancun has a different vibe, with everything being within walking distance, and easily accessible. It seems rather fitting that the lovely bride of the day, Krista, was also very down-to-earth, eagerly doing her own hair and make-up, keeping the look simple, clean, and fresh. An early morning wake up and hours spent at the resort's Spa & Beauty Salon were completely unnecessary, wherein Krista was more interested in the quiet and zen-like meditative motions of getting herself ready for her big day. Krista, a natural beauty, was exceptionally relaxed upon our arrival, motioning elegantly to important items of the day such as her bouquet, rings, and shoes. With the close proximity of most rooms on the resort grounds, other members of the family were able to flow in and out of the room with ease, which meant random visits from guests, and lovely intimate moments caught with Krista and her young niece. Referring to the events occurring as "getting ready" seemed almost arbitrary, with everyone seeming in their own wedding day groove. Even the gentlemen together in a separate space required minor adjustments to cuff links and the straightening of a tie, but otherwise were assembled and ready for the events of the day to proceed. Krista's dress was modest in its simplicity, with a focus on a detailed lace back and form clinging curves. She looked lovely, and it was apparent that the genes ran evenly through her family, with a minor entourage including her two sisters as her bridesmaids, and her mother looking radiant and easily able to pass as an older, more fair-haired sister.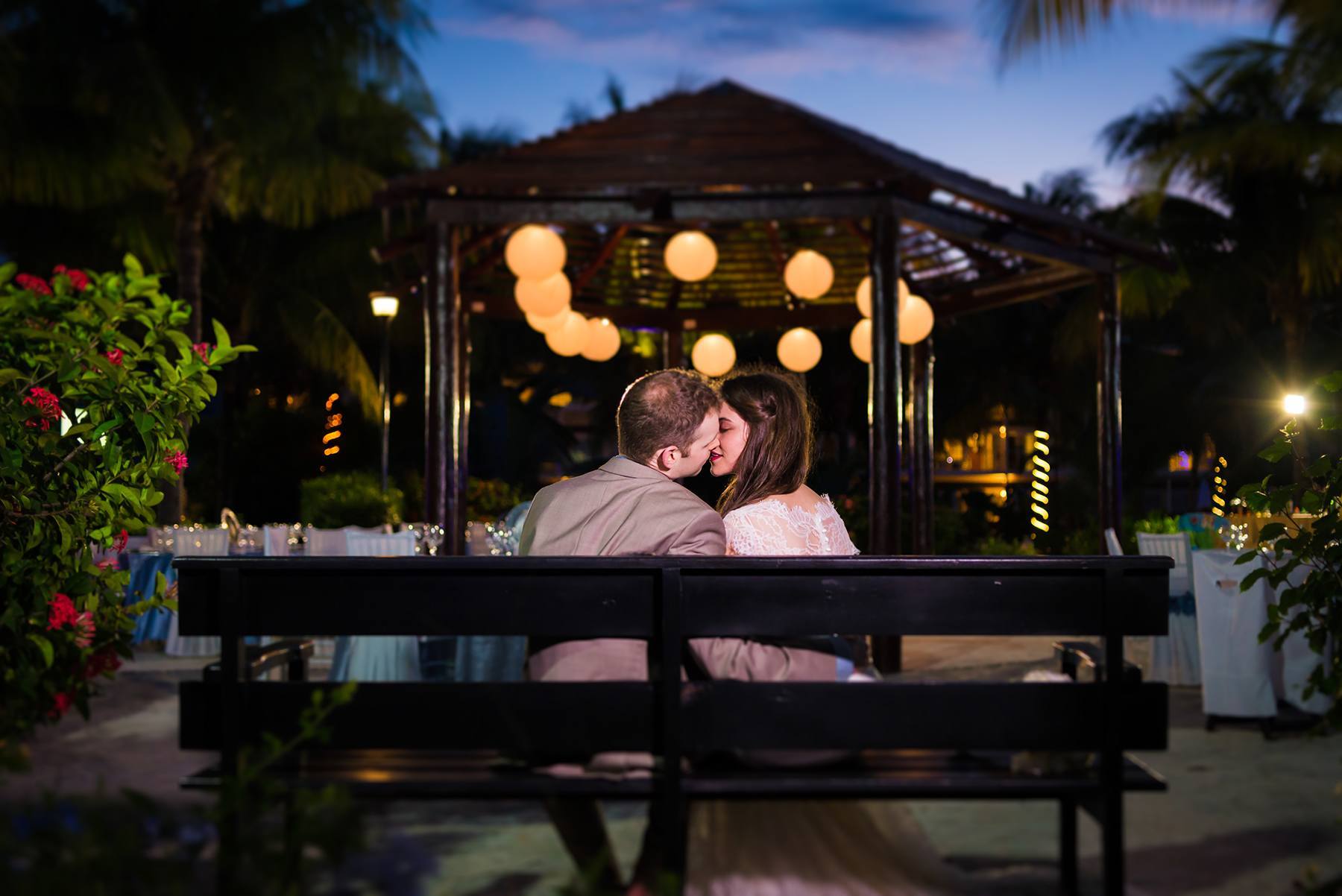 The details of the beach wedding décor was exquisite, the random blue and pink flowers mingling with mostly white roses was lovely. Having them displayed with pale rose-tinted ribbons, was the perfect touch to accentuate the green foliage in surrounding areas, and the intense turquoise hues of the Caribbean Sea. Guests were eagerly anticipating the arrival of the blushing bride, and with good reason! Krista looked simply elegant walking arm-in-arm with her father, before being handed over to her soon to be husband Dennis, who had attire that was smart and sharp to match. Lovely words were shared by those closest to them, with Dennis' best man and brother, Daniel, having stories to share, and Krista's bridesmaid and sister, Kyra, moving the crowd to tears. It was fairly evident as the ceremony played out that everyone was more than ecstatic to finally see these two tying the knot and saying I do. There was plenty to be excited about with these two recently purchasing a house and being involved in renovations, plus a destination wedding, they have had their hands full, and definitely deserving of reaping the rewards with all the time, energy and effort that was put forth to get them where they were that day. Their vows were endearing, the aquamarine of the ocean matched perfectly with the blue of Dennis' dress shirt, and Krista's dazzling sapphire teardrop earrings, and their first kiss was one that would make any passerby swoon.
When the stress of the ceremony was long since forgotten, the couple had time to relax, spend time with the nephews that they adore so much, and allow us to follow silently, documenting some of the more candid moments they shared just being themselves. Krista had already given us the warning that she was not the type to be in the spotlight of photos, which seems ludicrous to us given her natural beauty and photogenic qualities. But we always keep in mind those involved in weddings that are camera-shy, considering Matt himself is not the easiest to get in front of the lens rather than behind, and carry forth with that knowledge to ensure the photos don't feel staged, don't feel stiff, and most importantly, capture the true essence of the love shared between the newlyweds. Azul Beach Riviera Cancun has a lovely pier, which can be tricky to mount and dismount with waves lapping hungrily at the steps, but worth the effort. Clouds had rolled in by this time too, which increased the wind and increased the waves, but Krista and Dennis seemed more than happy to oblige, and we couldn't be happier with the end results.
The sun rapidly setting meant only one thing, that it was time to rejoin the party, appease the guests with the entrance of the newlyweds and their subsequent explanation for what would get these two lovebirds kissing for their audience. Much to everyone's chagrin, the request involved everyone at each respective table, standing at the DJ booth with microphone in hand, and belting out a tune, a cappella, about love. This more demanding request did not steer the guests away from the much sought after dinner table kisses, and provided everyone else with some added fun and entertainment. The passion between Krista and Dennis is one that many couples long for, and one that will not be fading any day soon. It's uncanny how tender their love is, which our cameras were sure to embrace and latch on to. Every moment shared between these two was gentle, warm and gave you all the best kinds of chills. We are so happy that we had the opportunity to document this couple naturally in love with one another. There is no mistaking the emotion that exudes from them as they stare deeply into each other's eyes, share a lingering smooch or simply embracing and indulging in the moment.
Recent Weddings, Couples & Families