BlueBay Grand Esmeralda Wedding Photography
Riviera Maya
Playa del Carmen
Tulum
Cozumel
Isla Mujeres
Shari & Catherine
Shari & Catherine's Lipstick Lesbian Wedding at Bluebay Grand Esmeralda
Where to even begin with how the day unfolded with this spectacular wedding? When Shari first contacted us to photograph her marriage ceremony with Catherine, we couldn't have been more excited. She put it out there right from the start, the forewarning that this was going to be a lipstick lesbianwedding, to ensure that it would be something we were comfortable photographing. And there we were, thinking what is there not to love about having double the dresses, double the bouquets, double the veils, double the beauty? We were ecstatic with the opportunity, and could not be happier with how the entire day flowed so smoothly, even with some unexpected storm clouds that rolled in during their creatives. We worked around it and still managed to get some really lovely shots of the newlyweds. Working in our favour were some sheltered areas at BlueBay Grand Esmeralda resort.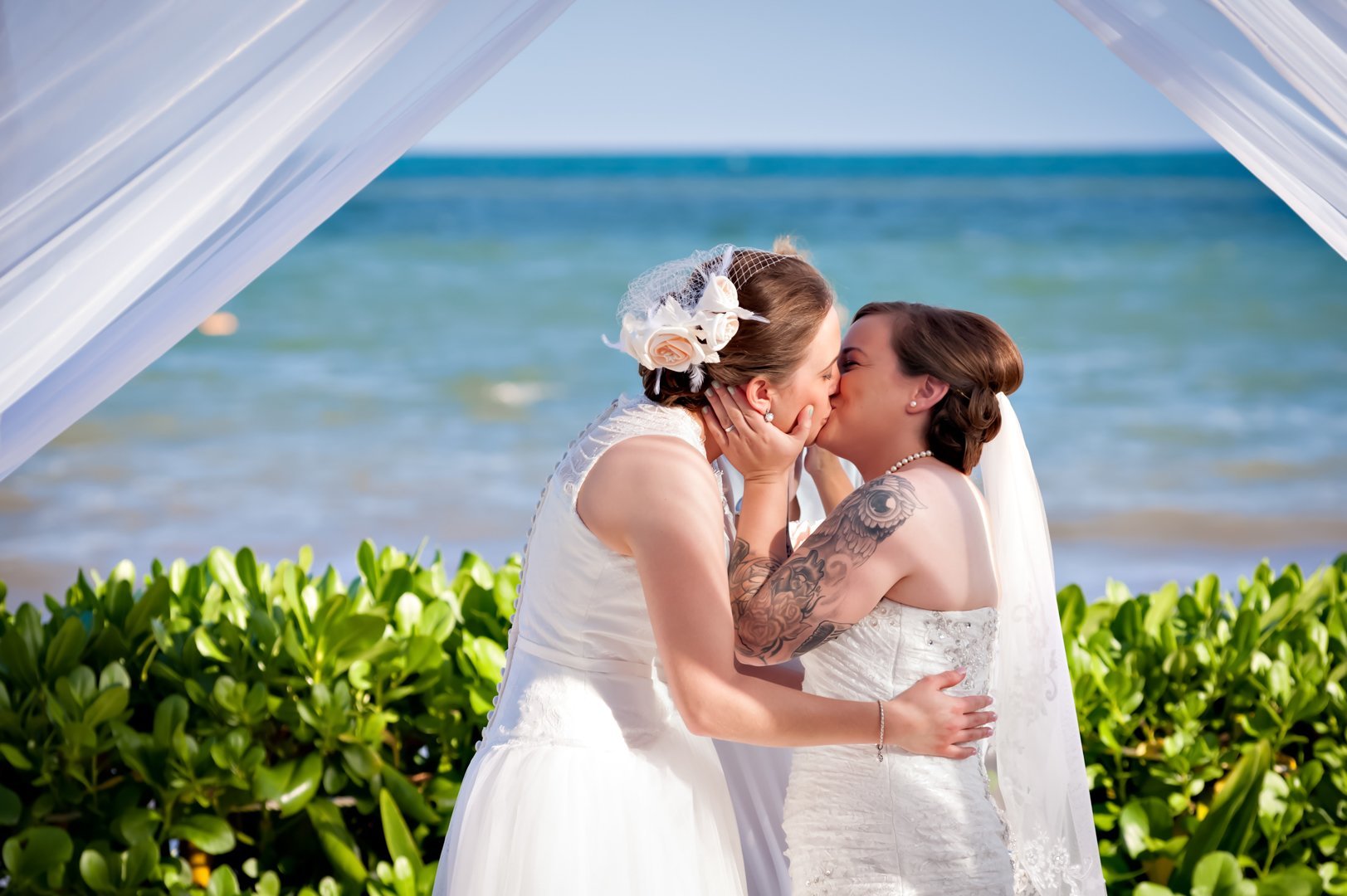 It was refreshing to have both Shari and Catherine getting ready in the same room. Theirs was an atypical wedding in that there was no wedding party. They wanted to keep it simple, with Catherine's sister stepping in as a ring bearer, but that was it. Catherine's sisters dressed in matching mint coloured dresses, and other such outfit coordinations. No wedding party also meant more room to freely move about the space, and more time to relax, allowing time to learn more about how these two lovely ladies met. Catherine is a French Canadian from Québec, Shari an Acadian from New Brunswick, but lo and behold, they met in Alberta through co-workers, and since 2010 have been the love of each others' lives. It was a refreshing change, being able to casually converse about their everyday lives, and they both seemed completely stress free, although the chatting stopped when the dresses were put on and accessorized. Some traditions are still nice to follow, and ensuring neither saw the other completely ready was one of them. Matt followed Shari in a cart, to arrive at the ceremony first, followed closely by Catherine, her sisters, and I. Everyone was all smiles, eager with anticipation, and ready to say I do. There was laughter shared, and nerves discussed, and how it was a relief that it was all just finally here, it was finally the big day.
The guests were more than ready to see each of their gorgeous gowns, all done up for the occasion. As was previously arranged, Shari and her mother had a duet ready to perform while Catherine walked down the aisle with her parents. Shari's voice soared over the crashing waves, reverberating ever so wonderfully with an outdoor location with no acoustics. Her hands glided across the strings with ease, and when she saw Catherine for the first time, it was impossible not to hear the smile in her voice. This was the moment! This was really happening, and you could tell Shari was ready. Their love for one another is hard to match. The constant stream of positive vibes that just radiate from both of these blushing brides is truly a delight to be around. Despite some struggles with the rings during the ceremony, which were placed incorrectly on each others' fingers, and difficulty removing them, their marriage was sealed with a kiss. Hand in hand, they turned and walked down the aisle, to many cheers and applause from their guests, and surrounding guests at the resort. Champagne was popped and poured, and everyone was ready to hug, kiss and say their congratulations. Storm clouds were starting to roll in during the post-ceremony celebrations, so we snuck away with the newlyweds to photograph their creatives in creative areas of the resort so as to keep everyone dry in the process.
Catherine and Shari had previously requested photos of them both in their wedding dresses, as well as wardrobe changes to their work uniforms, so we took care to be near their room for the necessary wardrobe changes. Catherine has been a member of the RCMP for 5 years now, and Shari working for 6 1/2 years as a Military Policewoman. Needless to say, there was a lot of care and thought put into the coupling of outfits, and were pleased with the opportunity to both change into work attire, and each managing to get back into their dresses before their reception time, and subsequent cake cutting. While it intermittently poured outside, we all stayed dry indoors enjoying dinner and cake, though also discussing where exactly a first dance could take place. Initial plans called for a barefoot dance in the sand by the beach, but with the uncertainty of how long rain was going to stay at bay, we brainstormed and decided that the fountain near the restaurant, along the footpath, would be a lovely backdrop, with easy access to dry safety. Shari's mother graced everyone again with her incredible musical skills on the guitar, although this time also being the one to sing, so her daughter, and daughter-in-law, could truly enjoy their moment together. They had their arms wrapped lovingly around one another, staring deeply and passionately into each others eyes. The rain managed to stay away for the dance, and the whole day couldn't have been any more spectacular. These ladies were beautiful brides and a pleasure to photograph.
Recent Weddings, Couples & Families