Grand Palladium Riviera Maya Wedding Photography
Riviera Maya
Playa del Carmen
Tulum
Cozumel
Isla Mujeres
Kyleigh & Cody
Kyleigh and Cody were an amazing couple, no wait, correction; they ARE an amazing couple to work with, and get to know. They have a solid group of friends, which would explain the large wedding party consisting of several bridesmaids and groomsmen. When everyone is so close knit, it's hard to just singularly pick and choose only a handful. But these friendships are so strong, and hold such deep roots in everyone's hearts, that they are pretty much all family. And that is something that is so special and worth holding onto in today's day age, where friendships come and go, maintaining semblances of friendships via Facebook and not much else. This group was a refreshing reminder of what it's like to have friendships that last, the ones where sometimes lives lead you apart, and years may go on with little shared between each other, but upon reuniting, it's like no time has passed at all. And so we had the joy of bearing witness to all the magic, all the inside jokes, all the random quotes and laughs and chuckles, and it was wonderful. Getting ready was all sorts of chaotic, but everyone was smiling and laughing during the organized chaos. Besides, isn't that what more than a dozen ladies getting ready in one hotel/resort room is supposed to be like? The guys, on the other hand, were busy posing for photos, generally goofing around poolside, and enjoying the opportunity to take a few shots before the ceremony. Kyleigh had a gorgeous dress with corseted back, as did each bride's maid, so you can only imagine some of the creative dress-tying trains that were assembled during the final stages of it all. And, it should go without saying that Kyleigh looked fabulous. Her mother was a wonderful assistant helping ensure all dresses were tied evenly, and that everyone was ceremony-ready.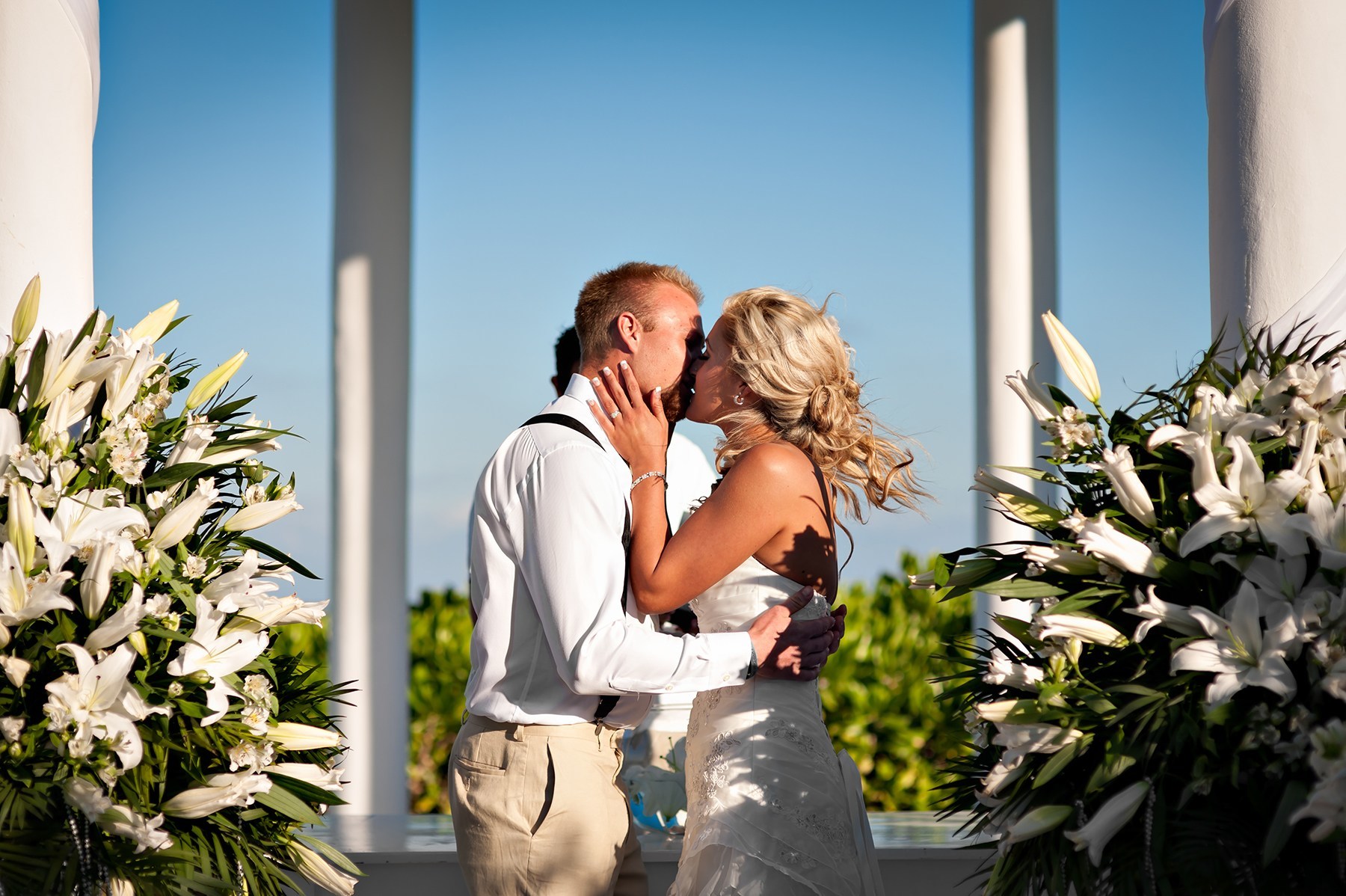 And ready they were! Spectators from Grand Palladium Riviera Resort & Spa were standing in all nearby corners, trying to catch glimpses of the blushing bride, plus her elaborate entourage. Cody was patiently waiting for a glimpse of his own, standing alone and eagerly waiting at the altar. There were giggles. There was laughter. And the excitement had everyone wiggling in their seats. The sun was cascading over Kyleigh's shoulders, highlighting halos around both their blonde locks, giving the entire ceremony a magical glow. Despite the atrociously fierce off-the-water winds, everyone was more than happy to see these two long time partners, exchange vows and finally say I do. Cody was so excited at the opportunity to seal the deal, that he swooped in for a "first kiss" before permission for said first was even given! Obviously, the comedic relief from the occurrence made the actual first kiss that much more of a joyous occasion completely deserving of cheers and hollers from the guests in attendance, as well as the entire wedding party.
The ceremony was over and the cocktail hour had just begun, when we whisked away Cody, Kyleigh, and their wonderful group of friends. We had a chance to stroll along the beach, get our feet wet, and watch as the groomsmen tried not to drop Kyleigh in the sand. We are happy to report that there were no harmed brides in the making of any of these photos. That being said, I'm sure Kyleigh was still far more comfortable, and felt far safer, in Cody's arms than a slew of her close male friends. Plus, it was likely time for the wedding party to get a chance to let loose and enjoy a few drinks to celebrate their friends' marriage. The energy that radiates between these two was electrifying, and contagious. The way they would just meet each other's gaze and smile, made any passerby tingle with excitement. It was impossible not to photograph some of these more candid moments, when they were least expecting the camera to be watching. But, as is common with the evenings here in the Riviera Maya, the setting sun happened faster than expected, so sunset photos were shot and the staff at the resort was hurriedly rushing us to the golf cart so as not to be late for dinner. Then again, is it even possible to be late at your own wedding dinner?
As we arrived to dinner, others were in the process of freshly arriving as well. As previously stated, there's no such thing as being late to your own dinner, celebrating your wedding, in a tropical paradise to boot! Dinner time just sort of flew by, and the true highlight of the evening were the speeches; speeches that came from most everyone in the wedding party. Everyone had a turn at the microphone, some with longer prepared speeches, while others just wanted to share a memorable moment they experienced with the newlyweds. To put it nicely, and gently, there was no shortage of hugs, tears and congratulations. Again, that loving warmth that just buzzed about the dining space was impossible to ignore. Having only met Kyleigh and Cody via Skype before the wedding, and only spending mere hours with everyone leading up to the speeches, I must admit the love everyone felt, and still feels, for these two is certainly something to be desired. These two are truly meant to be together, period. And it warmed my heart knowing we were asked to share in these touching, personal moments with everyone. Before long, everyone was ready for the stress relieving portion of the day, with the opportunity to let their proverbial hair down, kick their sandals off, have a few drinks, and enjoy the private beach bash waiting to be enjoyed. A bonfire was going, a personal bar was ready to serve, appetizers were passed around and there wasn't a smile missing from anyone's faces.
Recent Weddings, Couples & Families