Grand Sunset Princess Wedding Photography
Riviera Maya
Playa del Carmen
Tulum
Cozumel
Isla Mujeres
John & Anthony
John & Anthony wanted nothing more than to exchange their vows surrounded by those nearest and dearest to their hearts, family and friends alike. And there's no better motivation to hit the gym frequently, to work those glutes, quads and define those abs than knowing you'll be spending a week with an entourage of your loved ones on the sandy beaches of Playa del Carmen, Mexico. Needless to say, an easy decision was made. Grand Sunset Princess was where they had vacationed a few years prior so it seemed fitting to return to an enjoyed location for their wedding celebration.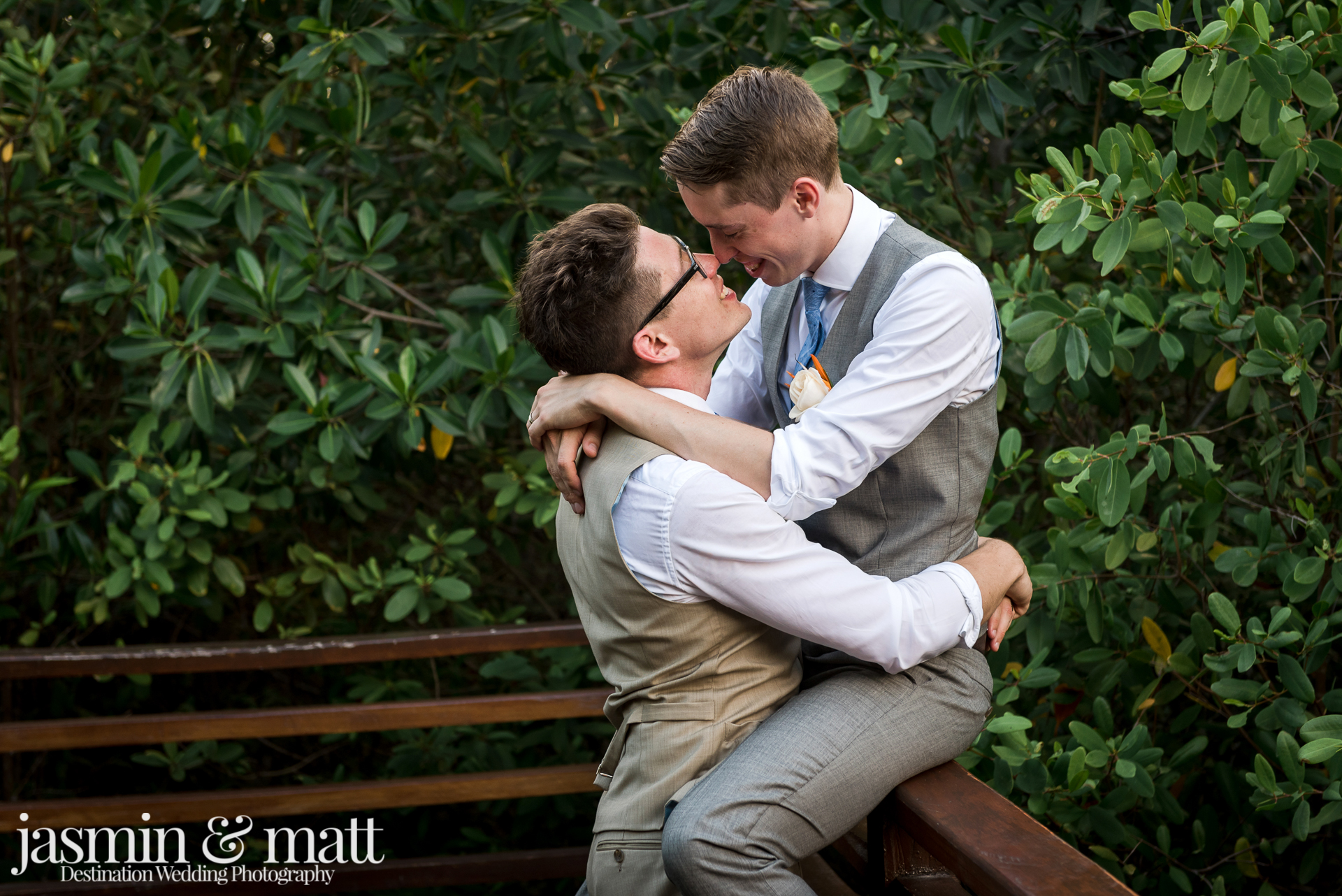 When John filled us in on their love story, my heart first melted, then it nearly exploded.  These two couldn't be more perfect for each other, having met first day of classes at law school, and allowing their relationship to organically evolve from that point onward. Having decided in their second year to move in with one another, they have some words of wisdom for the rest of you lovebirds – "We lived the next year and a half in a small 450 sq foot apartment and didn't kill each other – that's how I knew we could make it work!" As for their engagement, Anthony & John had plans for a romantic dinner for two at a favourite restaurant (Patria) and tickets to the Toronto Symphony Orchestra performing The Nutcracker. A slight surprise came when Anthony presented tickets to the Orchestra Distant Worlds: Music from Final Fantasy instead (a favourite video game of John's). Little did John know the BIG surprise was waiting at home! A trail of rose petals, chilled champagne, chocolate-covered strawberries, and best of all, a proposal from Anthony asking John to spend the rest of their lives together. As John mentioned while reminiscing, "I had never imagined what my engagement would be like, but I couldn't imagine it any more perfect than that night." Now isn't that a surprise engagement that makes your heart swell, and brings tears of joy to your eyes?
John & Anthony, you welcomed us like we had been friends for ages. Despite the difficult decision to cancel with your initial photographer as a result of the Zika warnings for pregnancies, we are happy it worked in everyone's favour. The world works in mysterious ways, and all things considered, we're pleased the end result of hiring us as your wedding photographers has blossomed into a friendship that will continue to bloom for years to come.
If you're searching for fun & professional photographers ready to capture the smiles, the tears, and everything in between, look no further than Jasmin & Matt Photography. We are proud Canadians living in the heart of the Riviera Maya, ready to create some lasting memories from your wedding day, so contact us here today!
Haley Reinhart - Can't Help Falling in Love with You
Recent Weddings, Couples & Families