Hard Rock Hotel Riviera Maya Wedding Photography
Riviera Maya
Playa del Carmen
Tulum
Cozumel
Isla Mujeres
Jennifer & Lee
Hard Rock Hotel Riviera Maya Wedding
The sun was hot, the humidity was high, and the festivities had only just begun Friday, August 15th, 2014. There is no way to sugar coat just how hot it gets in the Yucatan Peninsula during the summer months, but even the heat won't keep travelers away, and certainly does not mean that weddings aren't still a common occurrence. This was true for Jennifer of the online book club BookShelfery and her fiancé Lee, plus their wedding group of 15 friends and family. And, although wiping your brow may have been a requirement, rather than a suggestion, it didn't hinder their guests, who were all ready and willing to forego comfort and just have a grandiose time regardless. And, it seems the decor and ambiance of their resort, the Hard Rock Hotel Riviera Maya had everyone feeling fairly laid-back and comfortable. Needless to say, everyone seemed rather content to be spending time relaxing poolside, or enjoying a stroll along the sandy beaches of the Mayan Riviera, instead of being stuck at home in the summer, working steady day jobs. Plus, there was the advantage of being indoors, getting ready in chilly air-conditioned resort rooms and the on-location Spa, which meant wearing the unique and personalized, multi-coloured robes was still a fun and pleasurable experience.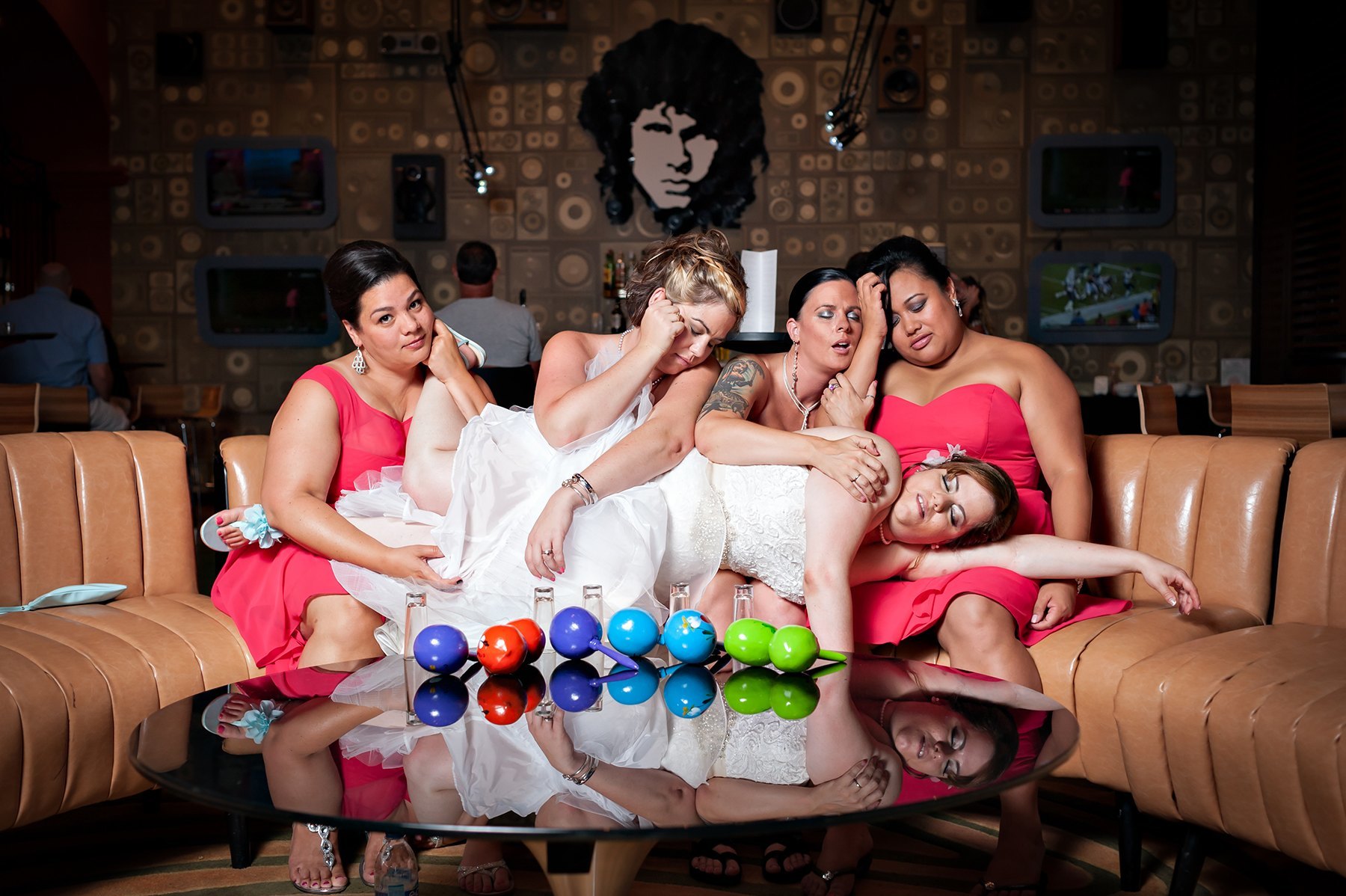 After a handful of hours of the royal treatment, complete with a few celebratory mimosas and endless laughter and giggles, Jennifer and her crew were eager to complete their news looks with jewellery and dresses. So, we eagerly packed up our belongings, and made our way to the Deluxe Platinum Sky Terrace room Jennifer was calling home for the week, in the Adults Only section of the resort, known as Heaven at Hard Rock Hotel Riviera Maya. The view was spectacular, with a balcony overlooking the beach, complete with a hammock for relaxing when the urge strikes, plus a private third floor terrace complete with lounge chairs and a hydro spa tub. The ladies could barely contain their excitement, seeing all the bridesmaids' dresses hanging on either side of Jennifer's gorgeous gown. Dad stopped in for a quick visit, and to have his boutonnière pinned by his daughter before heading over to the men getting themselves together, and to not spoil his surprise for later, seeing his daughter fully dressed and ready to walk down the aisle with her father proudly by her side. With all the finishing touches in place, there was a nervous anticipation at what was going to take place in the hour to come.  Everyone was hastily strapping on sandals, grabbing matching clutches with all the essentials, and heading out ready for the big moment.
Needless to say, Jennifer was stunning in her elegantly flowing dress, complete with veil that her mother, who was unable to be present in Playa del Carmen for the wedding, had carefully and delicately constructed for her by hand. With her mother there in spirit, and her father more than happy to wish his daughter the best of luck in this new chapter of her life, you could feel the love, joy and overall tenderness that seemed to have blanketed the scene. Misty-eyed bridesmaids, supportive groomsmen, and elated guests all clapped and cheered for the bride and groom! Jennifer and Lee kissed each other passionately, happy to finally say I do and call each other husband and wife. The wedding crew was small, quaint and just as pleased to see the two finally an officially married duo. Hugs and kisses spread through the group like wild fire, and while others went to relax a bit before the reception, we stole the newlyweds away for their time to shine in the spotlight solo. Jennifer had taken time prior to their travels to hand-make a Gracias sign that would be perfect for their thank you cards afterwards. We wandered the grounds at the resort, snapping photos here and there of the couple blissfully in love.
With reception outdoors in a palapa-covered hut on the beach, Jennifer and Lee wanted to take a moment to have a drink and relax on the couches in the lobby at the resort. First, to be able to kick back and say they did, but more importantly, to take advantage of some air-conditioned relief before heading back out to get the party started and welcome the congratulations of their guests. Miniature hot sauce bottles and a variety of coloured maracas were the special touches Jennifer had ready for those that attended. And once food was consumed and tables were cleared, it meant only one thing. Time to dance! Jennifer was excited to have some zany bridesmaids in her bridal party, and some staged shots were set up to accommodate some fun ideas she had from Pinterest which worked perfectly with the decor at the resort. All in all, everyone seemed overjoyed at the union of these two lovebirds and we had a great time being there to document it all.
Recent Weddings, Couples & Families