Montreal Quebec Wedding Photography
Moon & Andrew
Beautiful Chinese Wedding in the Heart of Downtown Montreal
The end of August brought with it a lovely day, with moderate temperatures and minimal harsh sunlight, which couldn't have been better for outdoor wedding photos with the Moon, Andrew and their wedding party. The day started off at the beautiful St James United Church, which is spectacular, and a sight to be seen. Moon was exceptionally pleased with having been able to book the church for her wedding, and her excitement was not misleading. The ceremony was lovely, and despite Moon's concern over low lighting in such an old church, the stained glass windows managed to let in a surprising amount of light, and the photos help exemplify just how grande the space was, and there was nothing but smiles and tears of happiness on each guests face. Group shots of all attendees were taken in front of the church doors, at Moon's request, to ensure that the interior and exterior beauty of the church was captured, and the wedding party group shot was certainly one of the best.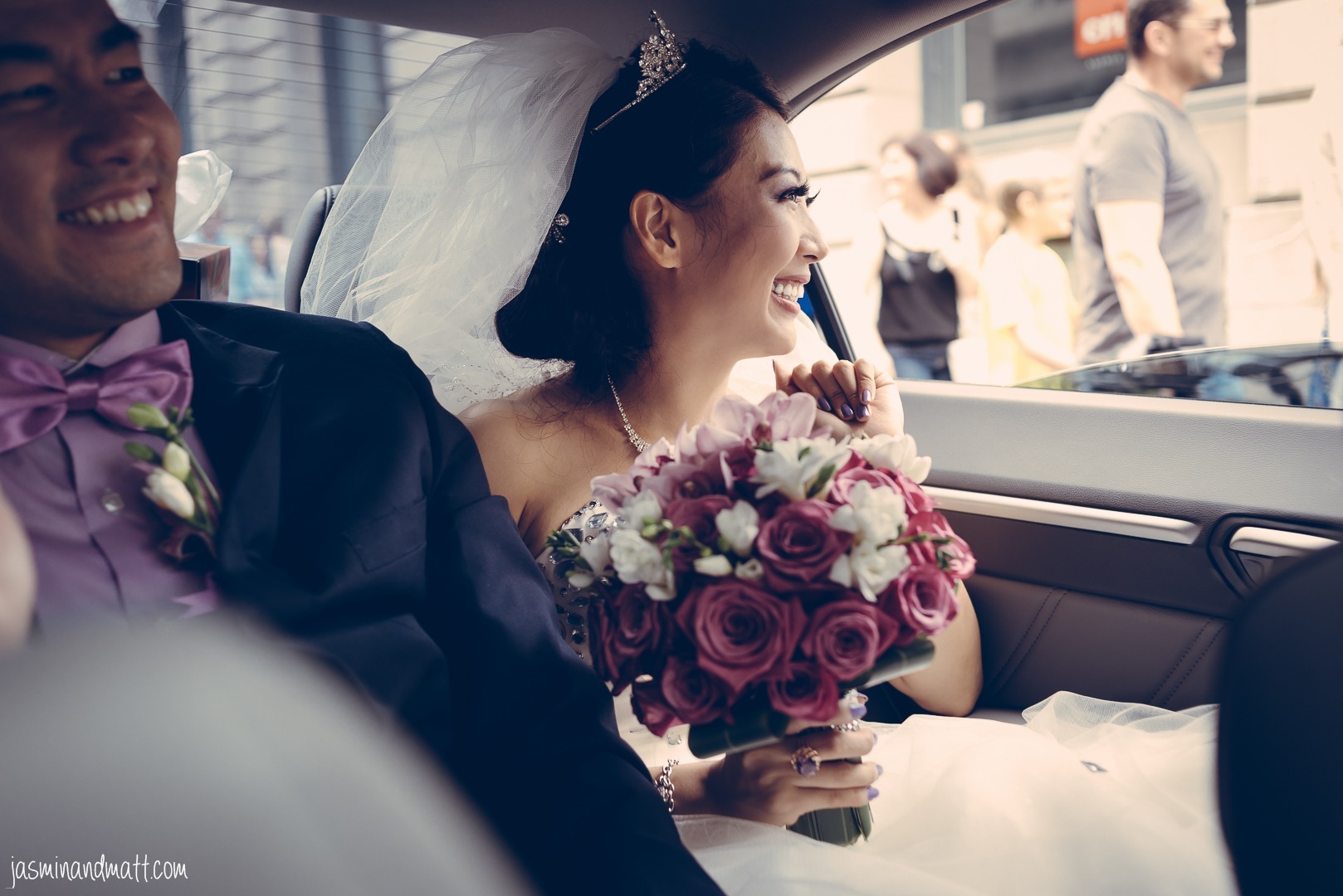 After many congratulatory hugs and kisses, we were quickly ushered into wedding party vehicles to make our way to the Old Port, which is the cobblestone roadways of Old Montreal where heritage buildings are kept, and souvenir shops are plentiful. We followed the couple to get some shots in front of the LOVE sculpture by Robert Indiana, as well as in front of the Notre Dame Basilica. There were plenty of tourists and locals milling about, many calling out congratulations and well wishes to the newlyweds. A busker was entertaining children nearby with his skills making exceptionally large bubbles that they could chase after and pop, and needless to say, some of the wedding party definitely got in on the fun. It was a cool and casual way to spend the hours between ceremony and reception, and really gave everyone an opportunity to let loose, get silly, and be carefree. We even managed to snap a number of photos mid-action of the groomsmen and Andrew jumping in a narrow alleyway, and they were compiled later on into a quirky animated gif.
The afternoon just flew by, and before we knew it, it was time to pack up, and head to Chinatown for the dinner reception, and subsequently dancing the night away. Moon, who works for Mega Bloks, was ecstatic that her company lent their over-sized Hello Kitty to have displayed at the entrance table to the banquet. There was excitement in the air, as everyone made their way into the dining room at Le Cristal Chinois. A traditional Chinese tea ceremony was performed at the Head table, while guests were making their way to their own respective pre-determined tables. The ceremony was short and sweet, but a joy to witness and photograph. As guests were settling in, with appetizers and drinks being offered, all were invited to line up and prepare for photographs to be taken with the Newlywed couple.
The evening progressed, and a traditional 10 course meal was served, one dish at a time. The food was great, the company was fantastic, everyone had a splendid time drinking and eating and celebrating the marriage of Andrew and Moon. There was a choreographed dance with the groomsmen, featuring Andrew, performed specifically for Moon, which moved her to tears and created a wonderful uproar from the guests. The couple made their rounds to each table, to make toasts and cheers everyone. And suddenly, the evening turned into night, the tables were rearranged, the lights were dimmed and colourful party lights were in full effect. Moon and Andrew were more than welcoming and ecstatic to have us stay and enjoy the rest of the night with everyone, as they had appreciated our overall upbeat and fun attitudes throughout the day. Needless to say, we had a blast, danced a bit, and continued to document with photographs. They were exceptionally appreciative of our dedication to our work, and some of the "party photos" as Moon referred to them as, were among her favourites. All in all, it was a splendid time, and we couldn't be happier being a part of such a festive Chinese wedding.
Recent Weddings, Couples & Families