Now Sapphire Riviera Cancun Wedding Photography
Riviera Maya
Playa del Carmen
Tulum
Cozumel
Isla Mujeres
Susan & Mike
Despite some unexpected rainy weather dampening the mood (and yes, all puns intended), there was still no shortage of smiles and laughter when Mike and Susan were with their respective halves of their wedding party, getting ready for their big day, and their big "I dos". Susan was calm and nonchalant, seemingly more preoccupied with fitting the beautiful bride role to a tee, than be overly concerned with something like the weather, which was so beyond anyone's control, really. And, she most certainly was able to fit the Beautiful Bride title perfectly. And her entourage of bridesmaids were looking equally as ravishing! There was a wonderful speckling of people in the beauty salon, all intermittently getting their hair done, or make up applied, or simply partaking in the excitement of Susan's upcoming ceremony. A decision was made to move the ceremony and reception to the rain-friendly venues that Now Sapphire has to offer. The staff were exceptionally accommodating, and were able to make the adjustments with less than 2 hours until the ceremony time. There was laughter shared thinking about how the dress rehearsal the previous day was essentially done in vain, considering the locations would now be completely different, and foreign to everyone. But again, that was just part of the unexpected fun of having a destination wedding mid-November in the Mayan Riviera. The wedding gifts for the groomsmen were exceptionally sleek and stylish, and the gents all seemed rather pleased with the result. It should come as no surprise, that while Susan and her bridesmaids were busy getting ready, that Mike and his crew put their final touches on their ensembles before enjoying some much deserved, and possibly much needed, beers and drinks. It wasn't long before the finals details were addressed with Susan, the dress was on and she was ready to walk the aisle!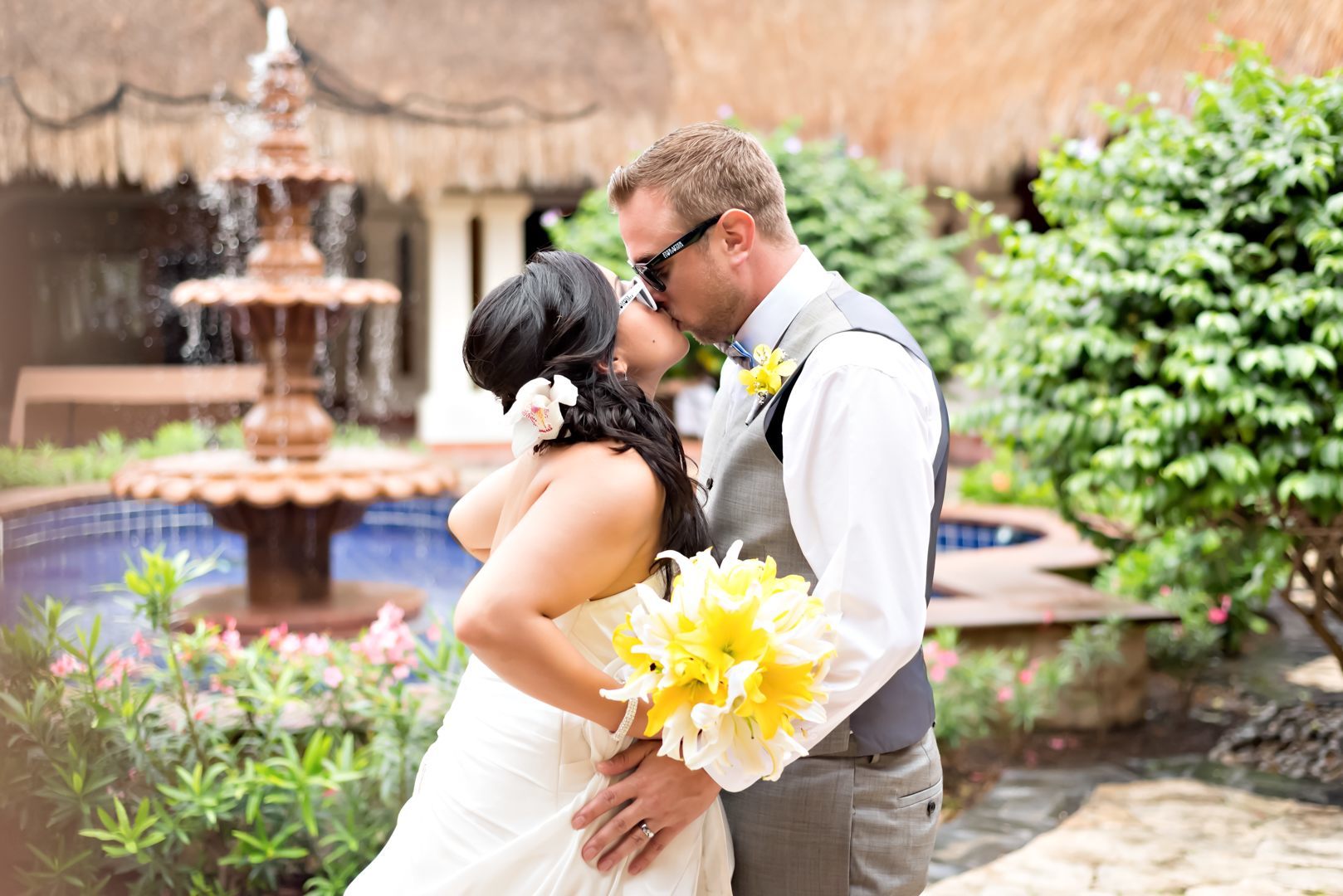 As for the ceremony, and the last minute relocating of guests and wedding party, it was spectacular nonetheless. The altar was a gorgeous covered platform, surrounded by white columns, and a moat of shallow water. The aisle was the only means of entrance to the altar, and the resort had supplied numerous complimentary umbrellas that were used to ensure everyone walking the aisle was away from Mother Nature's slight misting from the remnants of the rain that had occurred earlier, during the preparations for the wedding. My first opportunity to finally meet Mike in person was this moment, at the ceremony, and seeing him standing at the altar eagerly anticipating his wife-to-be walking down towards him, was quite the heartwarming moment. It's always an interesting moment for myself, first meeting the groom as he's in the spotlight, and only catching each others' eyes for mere seconds. A lot of unspoken dialogue takes place in those few precious seconds, and more often than not, as was the case with Mike, the warmth and excitement and love is exuding from their person, and it's truly a magical moment. I have come to really appreciate and enjoy these unspoken dialogues, which the groom often is oblivious to even having with me. Susan looked radiant, as was expected, and the yellow floral bouquet she chose was the perfect accent to her outfit. Their flower girl, Leah, was particularly adorable, with a strong attachment to Mike, she nearly ran down the aisle, and completely forgot about the task of throwing rose petals while she walked. Needless to say, she made up for the faux-pas moments later, tossing the entirety of her basket in a few massive handfuls, in one spot. Everyone burst out in laughter with Leah's resolution, ensuring her job for the wedding was still taken care of. The wedding party was a wild and vibrant bunch, and we had a blast walking the grounds at Now Sapphire and snapping photos of celebrations post-ceremony.
As always, there comes a time to branch off from the group, and sneak away for some more intimate moments shared with the newlyweds. The creatives session with the couple is the part of the wedding day we anticipate eagerly, that moment when the stresses have mostly melted away, and there's finally a chance for the newlyweds to breathe. They can just relax, be chill, and enjoy some stress-free time spent with both photographers. It's an opportunity to keep wandering about the resort grounds, finding interesting structures and locations to photograph the happy couple. We were fortunate enough that by this point in the day, the rain clouds had moved on, and we were simply left with overcast skies and the freedom to walk around outside at our leisure with no umbrellas needed. Mike and Susan are a blast to be around, always cracking jokes and trying not to take life too seriously. There was the perfect mix of sassy and sexy, and while being around this couple, it was nearly impossible to not be smiling along with them. Little did we even know of some of Mike's future plans for the reception, which included a choreographed dance along a personally written rap, complete with his sister Lisa and father as background dancers. So, his charismatic personality was a force to be reckoned with, which made our lives that much easier. Having a photogenic couple is one thing, but having a photogenic couple that enjoys their photos being taken takes everything to a whole new level. The time with Mike and Susan seemed to fly by, and before we knew it, it was time to pack everything up, make our way to the cocktail hour and get things set up for their requested Photo Booth. It should be noted that Susan was exceptionally crafty and creative when it came to wedding preparations and accessories. She had sunglasses with their wedding date printed along the sides for all the guests to be able to wear, team Bride and team Groom sunglasses for the wedding party, and their own unique pairs which read Happily Ever After across the two arms, with the wedding dates too. She also took plenty of time constructing all of their own Photo Booth decorations, which everyone seemed to really enjoy playing around with, and she was exceptionally proud of how they turned out, and how well they managed to travel from Canada. Their guestbook was an interesting idea, deciding to use what appears to be a family tree, to have everyone leave an inked thumbprint with a signed name adjacent the print. The guests were more than happy to oblige, leaving everyone with minor hints of blue ink remnants on their thumbs.
Everyone was in great spirits by the time cocktail ended and instructions were given to take their seats in anticipation of dinner and speeches, and most importantly, the grand entrance of the wedding party. The meal was delicious, the guests were eager for the speeches to end and the party to begin, but that isn't uncommon by the time the sun has set. Most guests have had a chance to have some down time between the ceremony and reception, and everyone starts to relax a bit more once the stresses of the vow exchange is over. It wasn't long before Mike was surprising everyone with his choreographed rap routine, and the applause and cheers following where something you would expect at a concert, not from a destination wedding crew. The night flowed seamlessly from speeches, through to their first dance before breaking out the dance party tracks. The tables were cleared away so the dance floor could thrive, and everyone seemed more than content to refill their glasses and start givin' 'er on the dance floor. Again, the atmosphere was full of smiles and laughter. Guests grew eager wondering what awaited everyone with Mike's reinterpretation of a sexy garter removal and toss, followed by Susan's elegant bouquet toss to the crowd of single ladies. We stepped outside briefly to capture a few remaining requests for photos, including Susan's sparkler shot, and the men with their cigars. Unfortunately, the winds were much too strong to properly execute the paper lantern send offs, for safety reasons related to the guests but more importantly to the surrounding foliage and environment. Which really just meant that everyone had the chance to head back inside for more drinks and more dancing, which seemed to cap off the wedding day perfectly.
Recent Weddings, Couples & Families