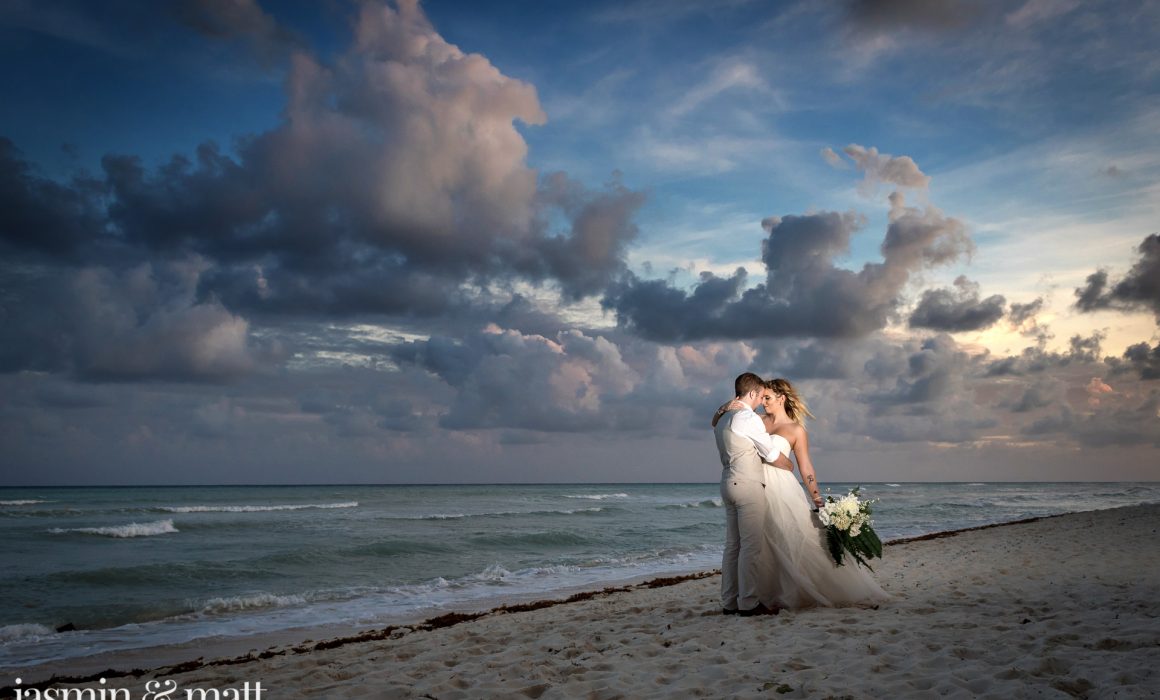 I think it's important to start this discussion by saying; No matter how well you plan out your wedding day schedule/timeline, unexpected things will come up, there will be delays, issues will arise and that's completely normal. The most important thing to remember is:
This is YOUR big day.
Don't stress and have fun.
We love working with our couples to put together the perfect schedule that covers all their photo requirements while working within their budget. We've photographed 100+ destination weddings in addition to the weddings we photographed in Canada and while we certainly don't know everything, our experience can help guide you and ensure nothing important gets missed. It is imperative that you have good communication with not only your wedding coordinator, but all of your vendors, so all parties are aware of how your day will flow. The earlier you can solidify these times the better. There is nothing worse than waiting until the last minute and finding out the only time you can have your ceremony is noon and your reception at 8pm.
1. Getting Started
Before we can start talking about what time you should be getting ready, or what time great-aunt Dorothy will get her family photo with the newlyweds, the most important thing to know is what time is sunset in the Riviera Maya. In our opinion, everything about your day should revolve around this. Regardless of whether or not you want an incredible sunset photo like the following, sunset is when you're going to start to rapidly lose natural light, and what is possible from a photographer's standpoint becomes limited to the lighting situation you agreed upon for your reception, and your photographers on, or off camera flash.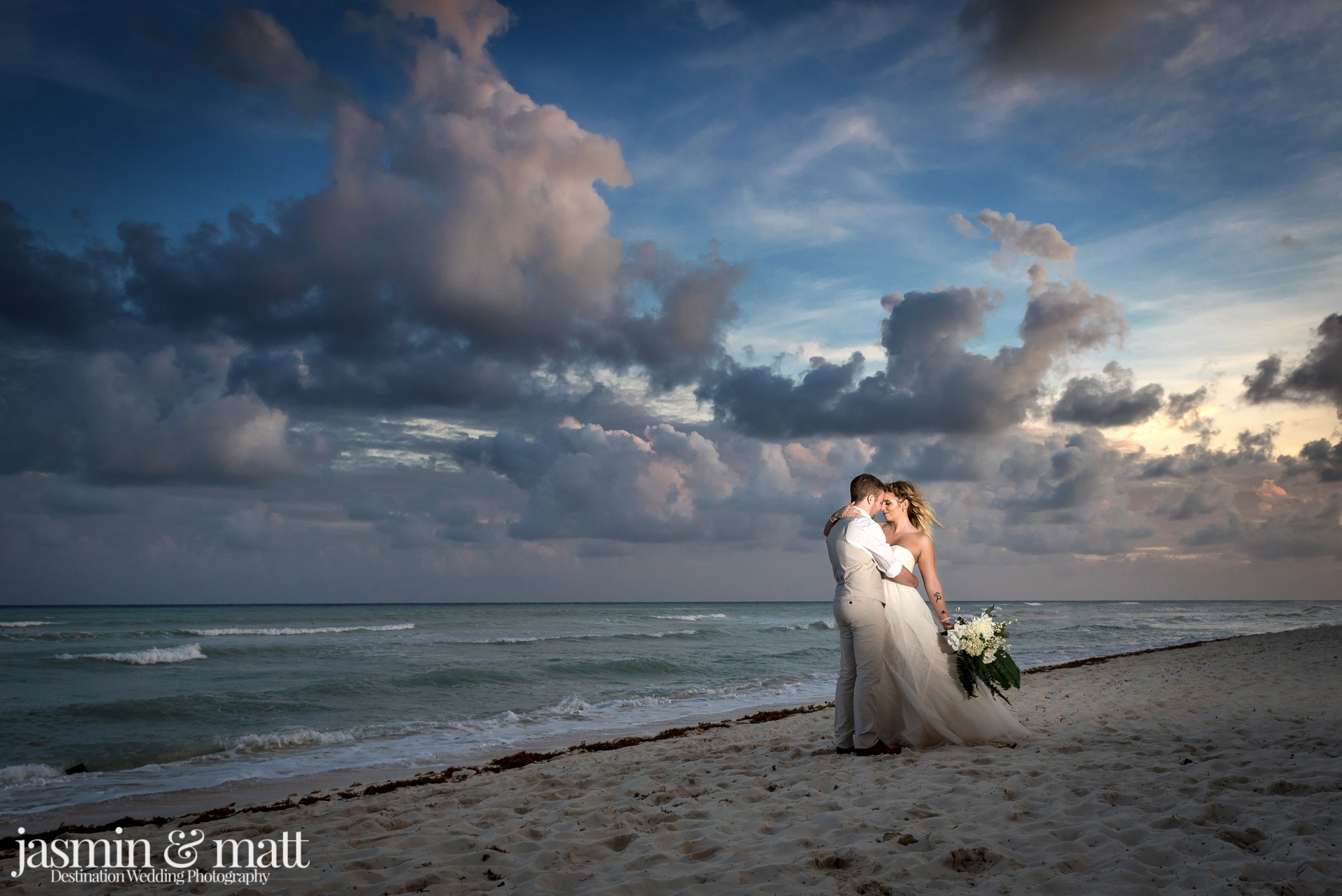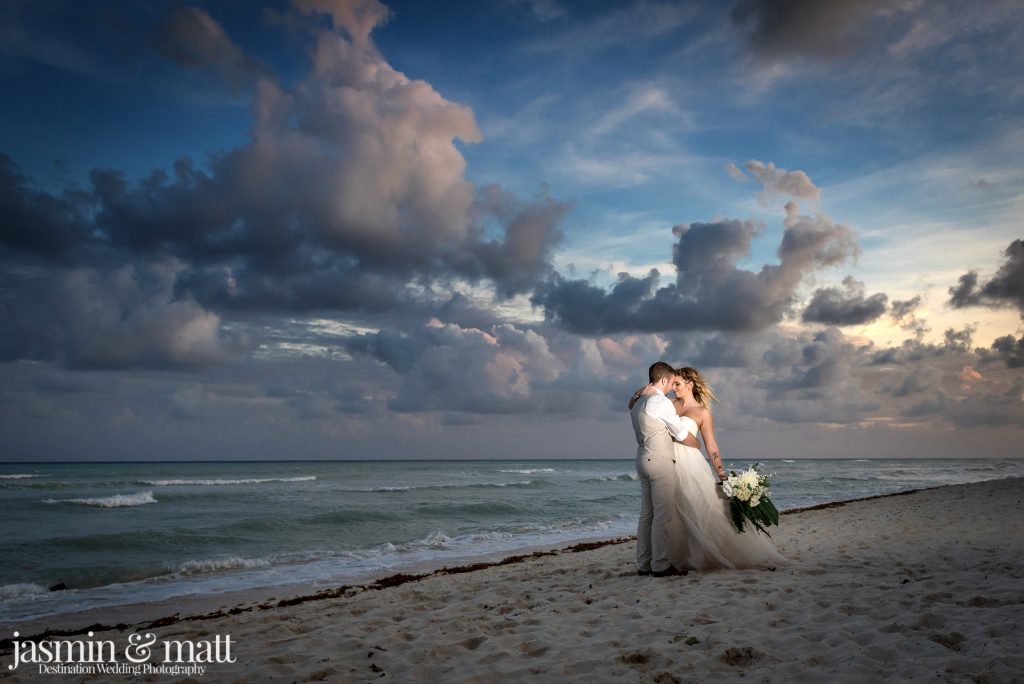 Let's assume your wedding day is January 15th. Sunset on that day in Playa del Carmen, Mexico is at 6:28pm. With that in mind, the perfect time for your reception to start would be 6:30pm. You can make your grand entrance while the last rays of sun dip below the horizon.
Now that we know what time sunset is and your reception will start at 6:30pm it's easy enough to fill in the gaps of your day.
2. Ceremony
The next most important time for your wedding day is your ceremony. Depending on how long your ceremony will last (most here in Mexico aren't more than 30 minutes) you'll want to have at least 2 hours between your ceremony and reception. This will provide ample time for champagne & congratulations post ceremony followed by family and friends photos, bridal party photos and of course newlyweds photos (our favorite part of the day). If your reception starts at 6:30pm a good time for your ceremony is 4pm. There are multiple reasons for a late afternoon ceremony, the biggest being sunlight in the later afternoon is softer and warmer (color, not heat) on your skin, it causes less unsightly shadows under the eyes and of course it's cooler than at mid-day.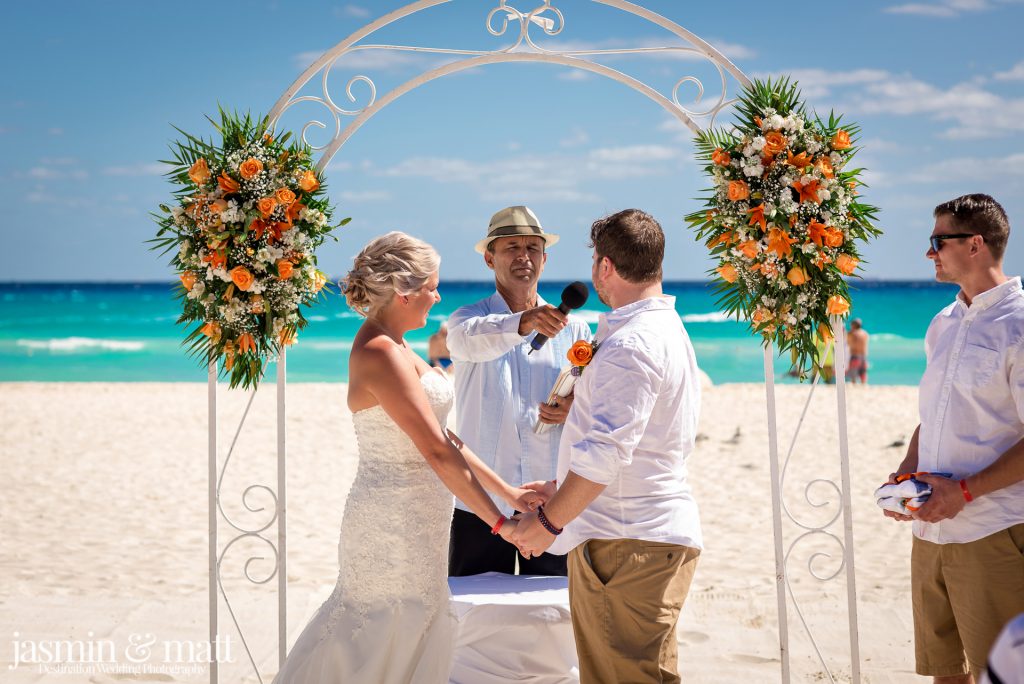 3. Putting it all Together
We're off to a great start! We know that your ceremony will be at 4pm and your reception at 6:30pm. Now we can start piecing together the rest of your day based on what you're looking for from your photographers. In our experience most couples are looking to start their day with getting ready & details photos (dress, rings, shoes, etc) and wrapping up the evening during the reception with cake cutting, bouquet toss and a little party fun. With a ceremony scheduled for 4pm and a reception for 6:30pm it's easy to photograph all these important moments in 6-8 hours.
The following is a template for an 8 hour wedding that will include a little bit of everything.
1:00pm – Photographers arrive
1:00pm – 2:30pm – Getting ready & photos of details (dress, shoes, rings, etc…)
2:30pm – 3:00pm – Bride getting into her dress & bridal portraits
3:00pm – 3:30pm – Bride & Groom first look
3:30pm – 3:45pm – Freshen up & final touch-ups
3:45pm – 4:00pm – Transport to ceremony
4:00pm – 4:30pm – Ceremony
4:30pm – 4:45pm – Champagne & congratulations
4:45pm – 5:30pm – Family, friends & bridal party photos
5:30pm – 6:30pm – Newlywed photos
6:30pm – 9:00pm – Reception including grand entrance, dinner & speeches, first dances, cake cutting, bouquet/garter toss & party time!!
9:00pm – Photographer leave
8 hours too many? We've put together a 6 hour timeline as well.
We highly recommend, if you plan on having first dances that you schedule them right after the grand entrance. Twilight is the perfect time for this special moment. There is still enough ambient light to make out slight details in the distance and the lights of your resort and reception space can create a truly beautiful atmosphere.
Wrapping Up
There we have it! Starting with time of sunset you can easily schedule you're wedding day and make sure nothing important is missed.