We've all heard it before, slow and steady wins the race. And this couldn't be more true than on your wedding day.
It's your wedding day, probably one of the biggest days of your life and there is so much going on around you. So much excitement, anticipation and nervousness from not only yourself, but all of those around you that it's important to remember… This. Is. Normal. Understanding that, and giving yourself time to breathe so you can take it all in, is just as important as making sure your dress, jewelry and hair are perfect. Allowing the day to flow naturally, and taking things slowly will help not only keep your stress levels down, but ultimately it will help you enjoy your wedding celebration that much more.
Remembering to take it slow isn't solely your responsibility. It's important that your family & guests, members of your wedding party, and even your photographers, all work together to ensure that everyone takes it slow and the day goes off without a hitch. We like to work with our couples, by helping them plan their day and providing advice based on our experiences on how best to arrange every important moment.
The Key Moments
When we say it's important to try and keep a "Zen" attitude throughout the day, what we really mean is be yourself and be in the moment. All couples want their photos to turn out perfect. The perfect smile, reaction, tear, hug and cheer that you and your family can look back on for years to come. You can't achieve this if you and everyone around you is stressed and instead of being in the moment you spend the entire day worrying about what's coming next or who's doing what.
Let's go through a typical wedding day for a large majority of destination weddings in the Riviera Maya (especially at all-inclusive resorts) and talk about a few key moments. We'll discuss what you can do to make them go smoothly and some best practices for great photo moments.
1. Getting Ready
Getting ready seems like the easiest part of your day but you may be surprised how fast time escapes you. There are so many equally important distractions, such as your spa time for hair and makeup, gift & letter exchanges with your partner, thank you gifts for your & popping bubbly with your bridal party and potentially even first looks to name a few, all of which culminate with the ceremony in a few hours it can easily become overwhelming.
We recommend designating your maid (person) of honour, your most responsible bridal party member, or a friend if you don't have a bridal party, with the task of keeping a schedule to ensure things move along as they should, in a timely manner.
Believe us, things will still run late (this is a vacation in Mexico, after all) and that's normal. This is why it's so important to take it slow, plan ahead and have someone other than yourself help keep track of time. This way you can be in the moment, and enjoy getting ready for YOUR wedding.
When it comes to photos, the best thing you can do when getting ready is to keep things tidy and have everything important (rings, shoes, dress, jewelry) in one place. If you're getting ready in your room, this means having room service visit before your photographers are scheduled to arrive, so when we come in, we can get straight to work rather than cleaning up ourselves, or running around to find something that is missing.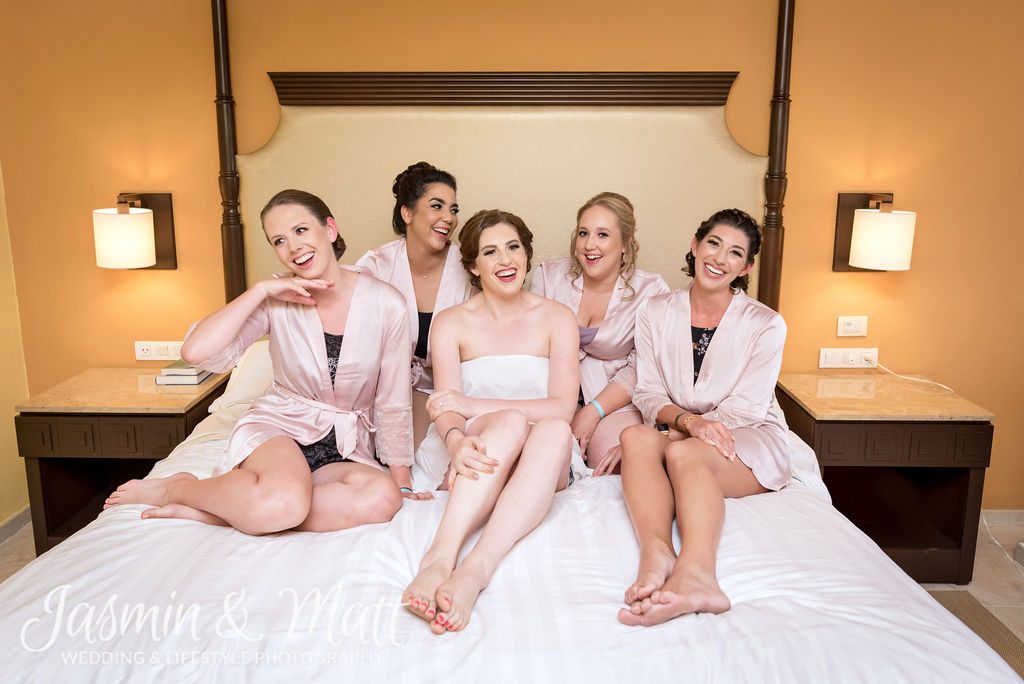 2. The Ceremony (Guests)
It's 2019, everyone has a smartphone and they're on it all the time. Heck you're probably reading this from a smartphone and that's awesome (we love our Pixel 3s)! What isn't awesome is your guests being too distracted on their phones, trying to get the "perfect shot" during your ceremony and not being there in the moment celebrating with you. There are also the guests who take it upon themselves to be smartphone photographers and potentially ruin your professional photographers shot. Who hasn't seen photos of brides walking down the aisle with what seems like a million glowing screens blocking the view?
We recommend having an "unplugged" ceremony so that everyone can be in the moment and enjoy themselves.
3. Walking Down the Aisle
Walking down the aisle seems straightforward doesn't it? When walking down the aisle you want to smile, look around at your friends, family and most importantly, let your gaze shift and linger on your fiancé.
You'd be surprised to learn that this is one of the hardest parts of the day for some, especially in a beach setting where the walkway could be uneven (sand and shoes can be a dangerous mix) and you end up spending more time thinking about your footing, than being present in the moment.
We have made it a habit to always tell our couples, as well as their bridal parties, be sure to smile and enjoy themselves while they walk down the aisle. The biggest caveats are folks looking only at their feet as they walk and putting so much focus on the task at hand, they unknowingly serve us some unintentional RBF (resting bitch face)
We get it. Weddings are a big deal, and if you're slightly concerned that you may struggle, it's always best to practice. Walk up and down a hallway in your hotel and pretend to hold a bouquet at waist level, keep your chin up and smile. Sure, it sounds silly, but we promise it will help. You'll feel more confident, and it will show in your photos; you'll look happier and you'll enjoy yourself more on your wedding day.
If you need to watch where you're stepping while walking down the aisle, do it momentarily. Just a quick glance downward and then face back up, looking at those in front of you, at the crowd or into the camera lens (we love when you connect with our camera every once and a while).
In the end the most important thing is that you enjoy yourself and present the best you for photos.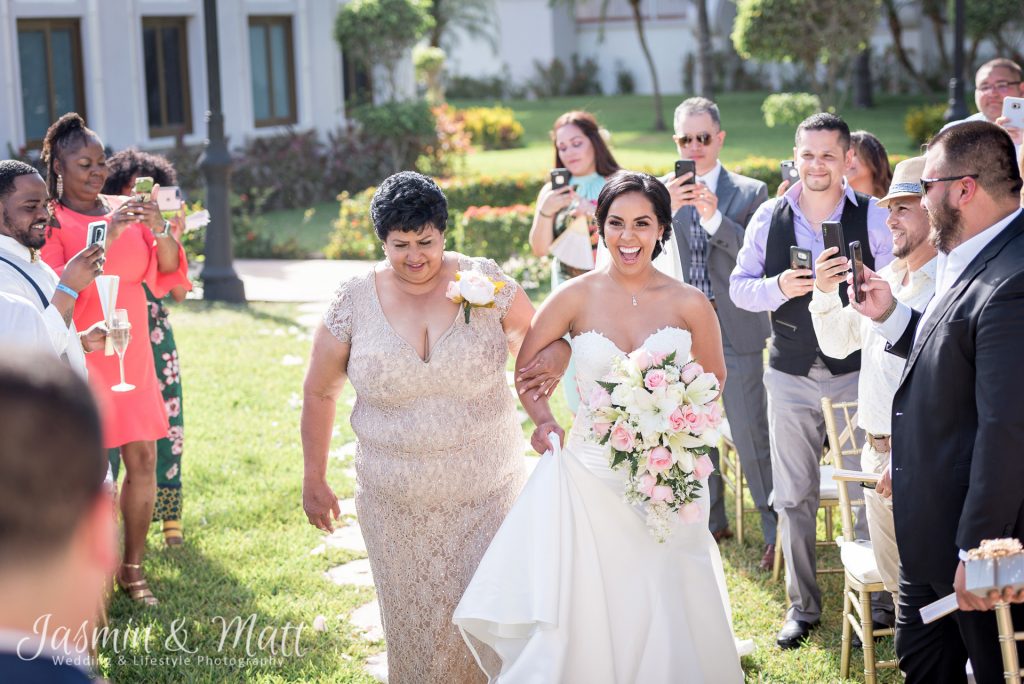 4. Placement of the Rings
One of the most emblematic moments of any wedding celebration is the placement of wedding bands on each other's fingers. Much like walking down the aisle, this is a simple task that manages to feel complicated during your big day, especially when getting married in a warm, humid climate like the Mexican Caribbean.
One very important thing to remember that often is overlooked, is if you're from a cooler, or dryer, climate than where you are getting married your fingers (as well as other extremities) can swell significantly.
Don't worry, this is normal and even happens to those of us who having been living here for a while. It's important to remember this, so it doesn't come as a surprise when you're putting the ring on your partner's finger during the ceremony.
And here we want to reiterate once again, just take it slow. If it doesn't fit perfectly, don't just try to ram it on, you might end up accidentally hurting your fiancé. Take your time and if necessary, allow for some assistance, or place it on a smaller finger if necessary.
The other important thing, at least from a photographer's perspective, is to keep an open line of sight to your guests. Turn your fiancé's hand ever so slightly so the top of their hand (pinky finger down) is facing the crowd. This will allow for close, detailed photos you can enjoy for years to come.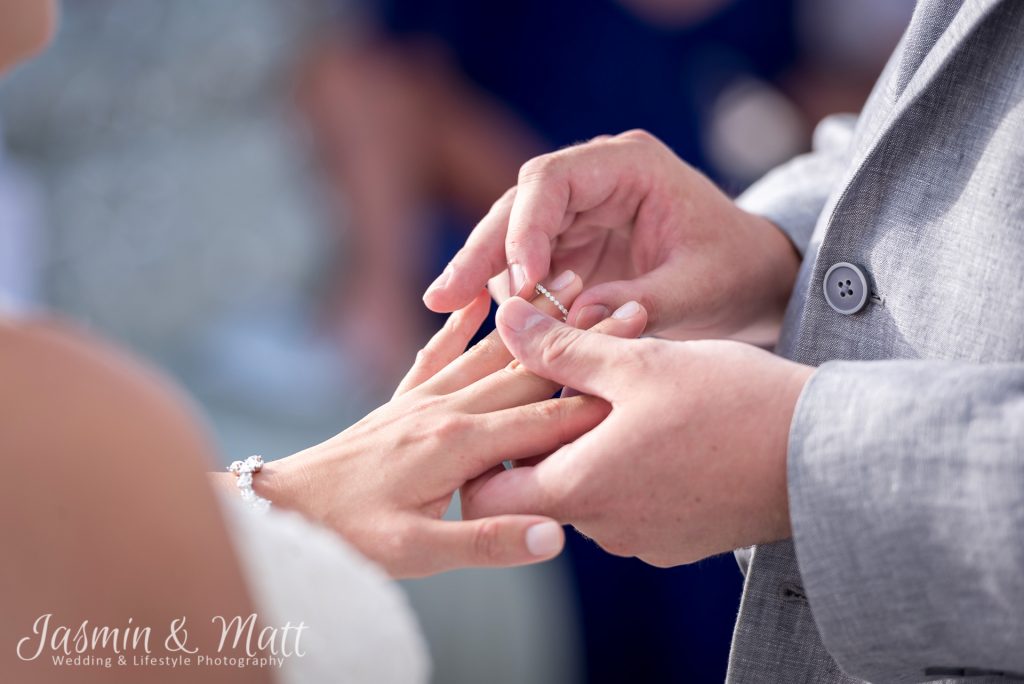 5. The First Kiss
Nothing represents the joy and love of a wedding celebration more than the first kiss. We understand that everyone is different, some are passionate kissers, others not so much. Some enjoy public displays of affection and others detest them. Regardless of the type of kisser you are, it is still incredibly important to take it slow, be yourself and enjoy the first kiss during your wedding celebration. This is the first time you'll be kissing as a married couple, so why not make it special and something to remember?
As with any of the other important moments during your big day, the number one rule is to take it slow. Whether you're smiling, crying, laughing or cheering, taking your time to enjoy this special moment allows us the time to capture the perfect photos.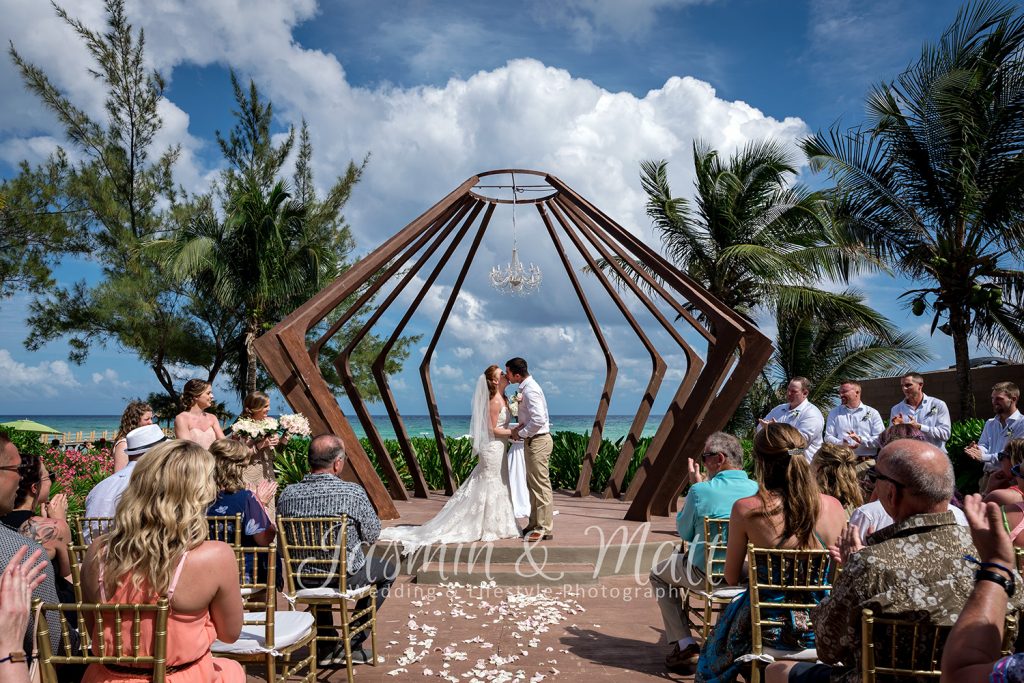 6. First Dances, Bouquet & Garter Toss
Everyone's first dances are different. Some are choreographed, some are ad hoc. Some are momentous and emotional; some don't happen at all. If you are planning a first dance, just remember that your photographers are there to capture this special moment. This doesn't mean you have to do anything crazy, just be present, be yourself and remember to smile.
The same can be said for a bouquet or garter toss. Not everyone celebrates their wedding with these events, but if you do just remember to take your time and have fun. No one is there to rush you and it's all in good fun. It's typical for the DJ to call down "all the single ladies" or "all the single guys" when it's time to toss the bouquet/garter. The problem with this at destination weddings is you might only have a small handful of single/unmarried guests among the crowd. We recommend encouraging all the women, married or not, on the dance floor, as it will make for better photos. And if they're happily married, they just don't have to try very hard for that bouquet.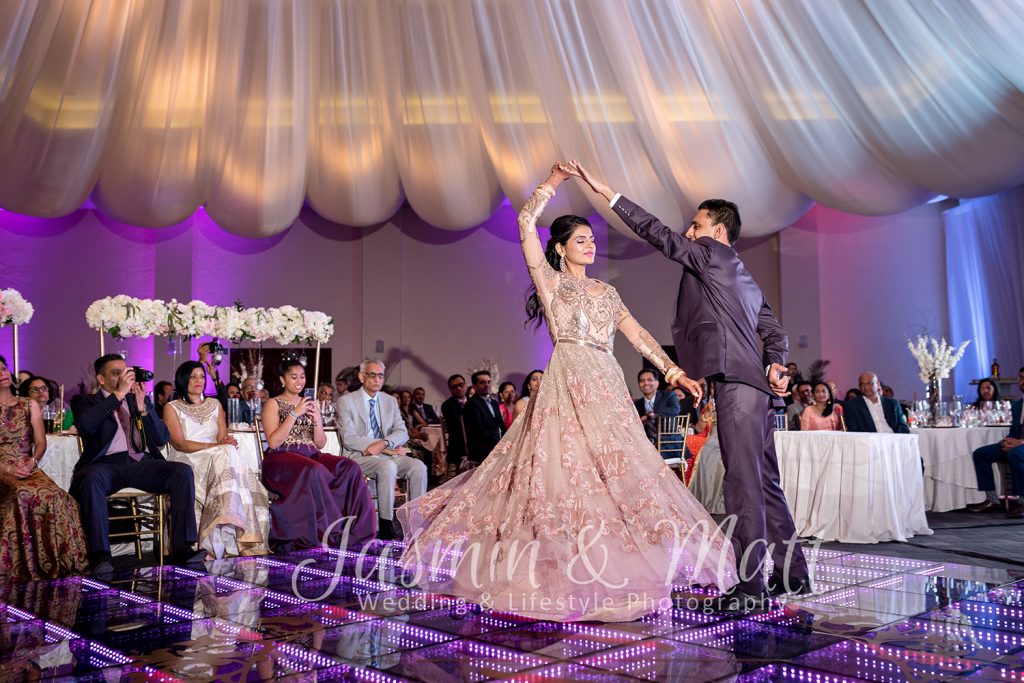 Each couple and each wedding is unique. The most important thing to always remember is that this is YOUR day, and don't let anyone tell you otherwise. Take it slow, stay in the moment, be yourself and have fun. If you do this, we promise you'll not only have a spectacular day, but your photos will be that much better in the end.