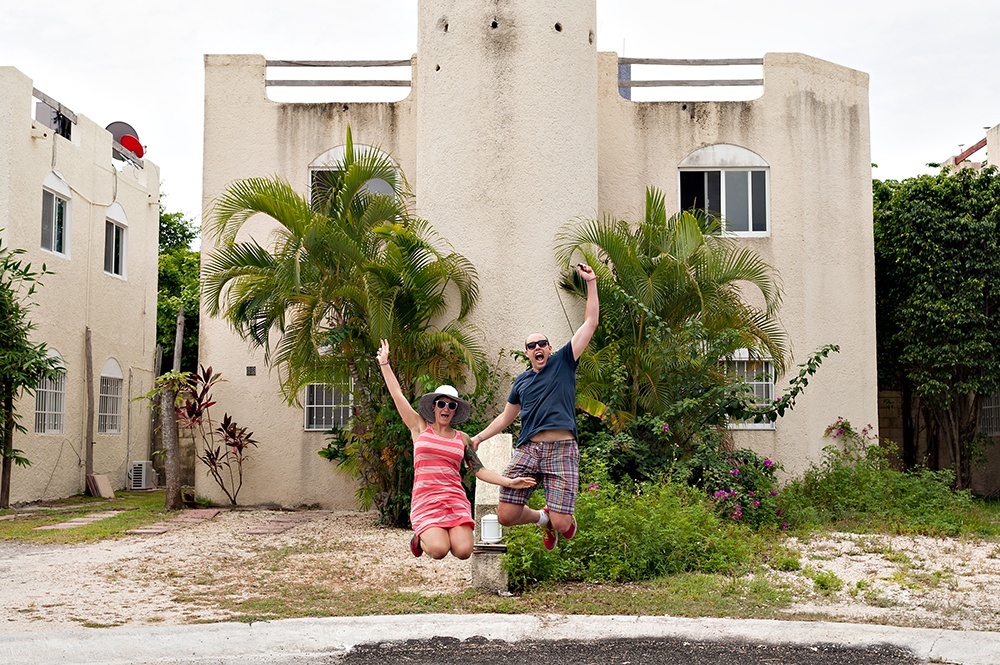 So we have finally arrived! Playa del Carmen is now called home. It has been an exceptionally busy few days. Lots of changes and lots to learn. After arriving Sunday, we were met with the misfortune of having our luggage lost in transit at the airport in Toronto. We had the exceptionally fortunate experience of having an exceptionally kind gentleman by the name of Miguel, help take down our information and keep in contact with us until it was found Tuesday and delivered Wednesday. That being said, the first few days with no change of clothes, or anything else, was challenging. We've learned that we are approximately 5km from the outskirts of town, but nearly 8km away from Walmart, which is where we needed to go to get simple replacement items. Needless to say, in this heat and humidity, it can feel like quite the trek. We were so relieved when we received notice that our luggage was found Tuesday evening, and would be delivered sometime Wednesday.

Luggage situation aside, we are quickly learning that being completely foreign, and lacking Spanish speaking skills, proves to be very difficult. We are trying to pick up on words here and there, but that is going to continue to be a work in progress for quite some time still. Things are done very differently here, and we are learning new things not only daily, but nearly every hour, or so it seems. But, it's all a learning experience, and we've remained positive and excited the whole way through. Bring on the challenges of living in Mexico!

We love our new place, and it turns out this condo is HUGE! The two rooms are basically the exact same size, never mind the vast openness of the living room/dining area. We have adjusted to the gas stove top, and just learned today that our washer/dryer system will likely also run on gas rather than electricity. We're not certain, but this is the norm here, so it's exceptionally likely to be the case for us too. There's still a number of items needed to make this place feel a bit more like home, but that will come over time. Patience truly is a virtue.

We are excited to continue onward with obtaining our immigration cards and being fully entitled to work here. It has been proceeding rather steadily, with a day trip to Toronto July 11th to sign for our Mexican Visa and now, meeting with our lawyer here in Playa del Carmen to continue filling out applications for the card proceed to be complete. One slow and steady step at a time.

The beach is just over half an hour away from the entrance to our complex, and likely just shy of one kilometre away from our front steps. Needless to say, this is heavenly and we've enjoyed our splashes and milling about in the ocean nearly every day. The sun is hot, the air is humid, and the water is warm yet still refreshing. It feels great to finally be here, and despite always having things to do, we still take time to sit back and remember where we are, what we have accomplished thus far to get here, and give each other random high fives for doing it. If you couldn't tell from this post that we're ecstatic to be here, the photo should sum that up nicely.
La vida es bella!