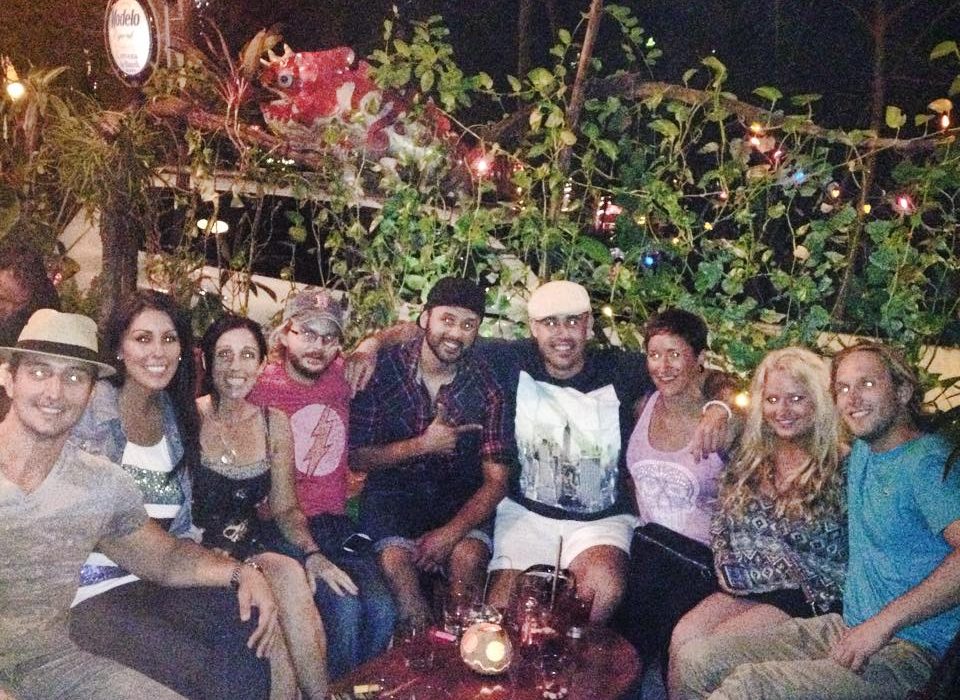 There has been so much going on with our lives currently, it's almost unreal! I feel like the month of November only just started, but somehow I find myself sitting in front of the computer, looking at the bottom of my screen and thinking "when did it become the 27th of November"? I guess that's simply what happens when you have, let's say, a bit of a forced vacation from home, by means of a friend visiting from Montreal, Darwin, and deciding to enjoy some of the more touristy things that Playa del Carmen, and the Mayan Riviera in general, have to offer. That is not to say that work did not still happen, and that is not to say that were weren't still busy finding a happy balance between work and play, but it does mean that November has become a blur of fun times with a friend we had not seen since June.
[justified_image_grid ids=2425,2426 row_height=400]
It was lovely having the chance to just kick back some days for breakfast, or night where we would head upstairs to our rooftop terrace, with homemade sangria in hand, LED flickering votive candles in jars, a deck of playing cards just ready for action. Many laughs were shared, and we had an opportunity to catch up on the lives of our friends back home, or home #2 rather (Montreal) from a source other than Facebook, Twitter, or any other varying form of social media. We've had a chance to see familiar Winnipeg faces twice this year, back in July upon our return home, as well as again in September when we photographed Paula and Scott Vandersteen's offbeat wedding, but since selling most of our belongings, packing a Uhaul attachment to our 2003 Cavalier, and bidding the French province adieu, we had not had the pleasure of Montreal companionship. Seems like a lifetime ago, but I guess when you move twice in two weeks, and the final move being in a foreign country, it really does throw your mind for a loop. Expect more blog posts covering the sights, sounds, and tastes of these Darwin Escapades in the near future, although unfortunately today is not the day, because today is already busy enough as it is.
[justified_image_grid ids=2428,2429 row_height=400]
Why the backburner of tales of adventures and wonder, you may ask? Because today is American Thanksgiving! And although we are may be Canadian, we are always interested in potlucks, friend gatherings, and Holiday celebrations!  And, we have been fortunate enough to meet a lovely American couple visiting Playa del Carmen for the months of October and November, who were wanting to prepare a turkey and weren't sure if there was much point to the whole ordeal. Needless to say, with some encouragement and some promises of shared food and fun, the decision was unanimous that a Thanksgiving dinner did indeed have to take place, and it would be an AmeriCanadian celebration. The same night we met Michelle and Jeff, we also meet two fabulous Canadian couples as well, Jeremy & Brittany, and Jennifer & Glen. And, of course, the more the merrier when it comes to a celebrating a Holiday which has a focus on being thankful. We may all be far away from family and familiar friends, but that doesn't mean you can't make your own nest in a new tree. Isn't that why the term "Friendsgiving" came about anyway?
[justified_image_grid ids=2430,2431 row_height=400]
And so, with that, I leave you with a short video of Sushi in the kitchen trying desperately to help me prepare a new recipe, No-Bake Vegan Pumpkin Cheesecake Bites! Since most households are without an oven here, challenges when it comes to baking are plenty! Thankfully, as much as I love baking, and consuming baked goods, I try to avoid it at all costs because, well, my waistline could use the avoidance, but I missed having pumpkin pie for Canadian Thanksgiving, and thought I would give something new a try. Something healthy, but something pumpkin themed. A proper wrap up of the night's festivities will be blogged about in the near future, complete with more photos of the deliciousness we all will consume, and obviously a yay or nay to my attempt at a new recipe. Happy Thanksgiving everyone, remember to tell someone you care that you love them, and express your gratitude and appreciation for all the things you have to be thankful for this year, and in your life.
https://www.youtube.com/watch?v=-bTMcDF6iCE